Stressless London Adjustable Headrest Original Chair with Footstool
Add to Wish List
From Only
£1,829.00
RRP
£2,299.00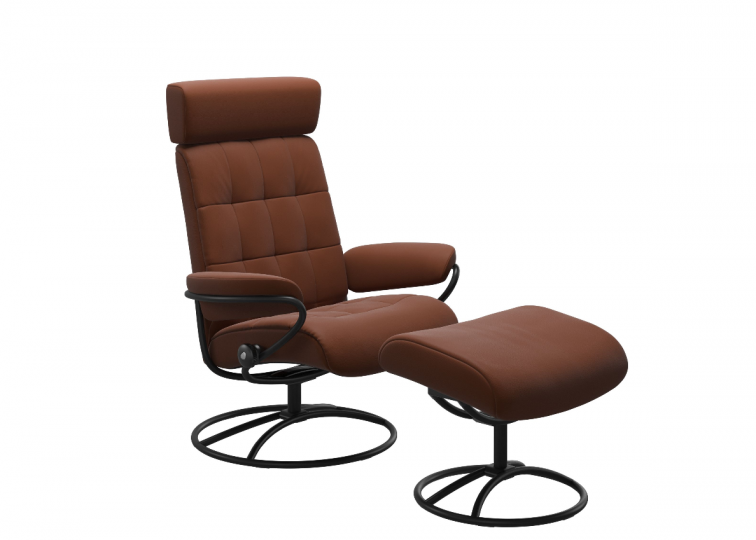 Shop Safely at taskers of Accrington
Product Information
Downloads

Stressless Recliners
Stressless London Adjustable Headrest Original Chair with Footstool
The Stressless London Chair and stool was made to stand out. It's not a chair for the faint hearted, with its distinguished retro features and modern touches. The adjustable headrest makes it suitable for those of a taller height, which means anyone can enjoy the supreme comfort this chair offers.
Stressless® Plus™ - a supportive system within the headrest and back which keeps your eye line level no matter how far back you recline.
Stressless® glide system this makes the chair fully responsive to your body, keeping you upright when needed or keeping you reclined when required.
Stressless® BalanceAdapt gives the chair a comforting rocking motion that reacts to your body while in movement.
Sleep Function a simple adjustment of the headrest to make it flat and just like that, you're all prepared to take a nap.
Shown In:Paloma Copper Leather with Black Base
Dimensions
Height (cm): 98.0

Width (cm): 80.0

Depth (cm): 75.0

Technical Specification

10 Year Guarantee on fabrication faults on internal mechanism

Equipped with the patented Glide system
Adjustable Headrest extends the chair height from 98.0-108.0cm
Footstool: h:42.0cm d:41.0cm w:54.0cm
Seat Height: 46.0cm
Seat Depth: 49.0cm
Need to know
Shop Safely at taskers of Accrington
More reasons
To shop at taskers of Accrington