From Only
£1,829.00
RRP
£2,299.00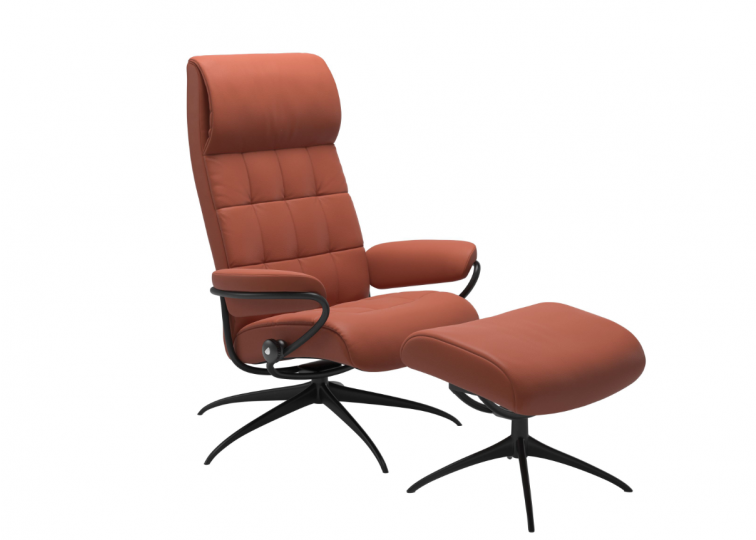 Shop Safely at taskers of Accrington
Product Information
Downloads

Stressless Recliners
Stressless London Star Chair with Footstool
Inspired by the hustle and bustle of the city, the Stressless London chair is a reclining seat that is a must-have for those who crave comfort after a long day at work.
Sit back, relax and let the functions and features of a Stressless chair work their magic:
Stressless® Plus™ - a supportive system within the headrest and back which keeps your eye line level no matter how far back you recline.
Stressless® glide system this makes the chair fully responsive to your body, keeping you upright when needed or keeping you reclined when required.
Stressless® BalanceAdapt gives the chair a comforting rocking motion that reacts to your body while in movement.
Footstool using many of the same technologies as the chair, the footstool reacts to your movements as well to move with you as you recline so you won't lose your footing.
Swivel the base allows a complete 360 rotation.
Shown In:Paloma Henna Leather with Black Base
Dimensions
Height (cm): 111.0

Width (cm): 80.0

Depth (cm): 74.0

Technical Specification

10 Year Guarantee on fabrication faults on internal mechanism

Footstool: h:42cm d:41cm w:54cm
Equipped with the patented Glide system
Choice of two base colours
Need to know
Shop Safely at taskers of Accrington
More reasons
To shop at taskers of Accrington