From Only
£1,929.00
RRP
£2,419.00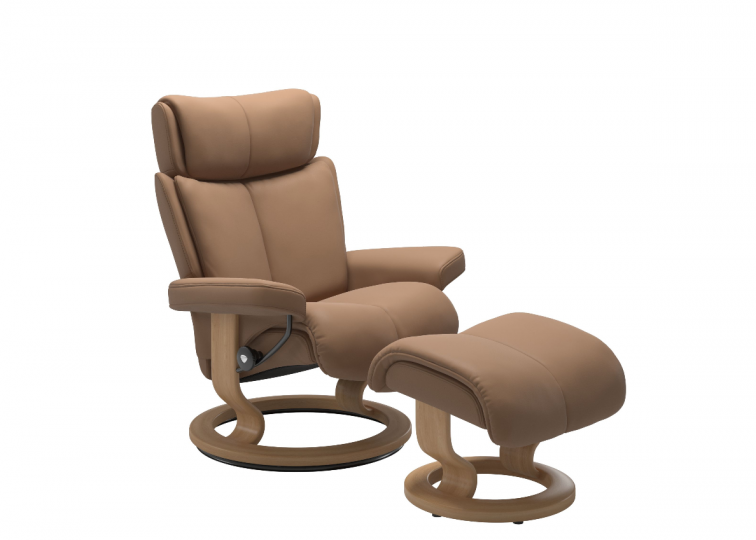 Shop Safely at taskers of Accrington
Product Information
Downloads

Stressless Recliners
Stressless Magic Classic Chair with Footstool
Hailed as their most comfortable chair, the Stressless Magic Recliner and Stool delivers maximum comfort and features a distinctly stylish silhouette. The thick pillow interior is made from foam and fibre and this is even found in the adjustable headrest and the footstool, so that you get the most support necessary from head to toe.
Features:
Swivel the base allows for a complete 360rotation, allowing you to adjust your direction with ease.
Stressless® Plus™ something other recliner chairs don't have, it's the ability to keep your eye line secure as you recline which has benefits for long-term neck support.
Sleep Function take five or maybe even more once you realise the handy sleeping function that lays the headrest flat so it becomes perfectly comfortable for a nap.
Stressless® glide system You won't boost upright at any given moment nor will you struggle to get into a reclined position. It is the ideal automatic seat-setting function.
Footstool perfectly proportioned to the chair, the complimenting footstool is made to suit all leg lengths.
Shown In:Batick Latte Leather with Oak Wood
Dimensions
Height (cm): 98.00

Width (cm): 77.00

Depth (cm): 76.00

Technical Specification

Small w/Classic Base: h:98.0-108.0cm d:76.0cm w:77.0cm (Seat Height: 42.0cm)

Medium w/Classic Base: h:101.0-111.0cm d:77.0cm w:81.0cm (Seat Height: 44.0cm)
Large w/Classic Base: h:101.0-111.0cm d:82.0cm w:90.0cm (Seat Height: 45.0cm)
Footstool w/Classic Base: h:43.0cm d:56.0cm w:55.0cm
Patented Stressless Glide® and Plus® systems respond to the movement of your body
10 Year Guarantee on fabrication faults on internal mechanism
Available in a variety of leather and fabric colour choices
Need to know
Shop Safely at taskers of Accrington
More reasons
To shop at taskers of Accrington