From Only
£2,579.00
RRP
£3,209.00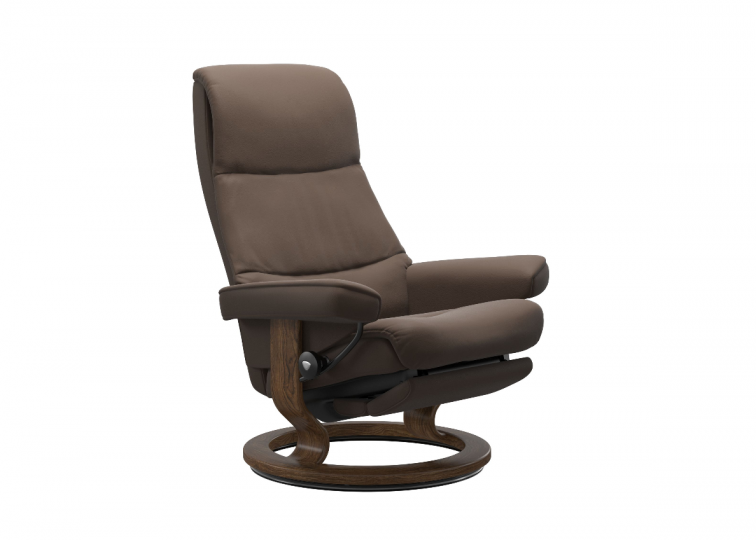 Shop Safely at taskers of Accrington
Product Information
Downloads

Stressless Recliners
Stressless View Classic Chair with Leg Comfort
A timeless chair, the Stressless View Recliner Chair and Stool is just what you're looking for if you want a high quality, super soft and incredibly functional lounger. The timeless pillow design is extended through the longer, slim back of this chair, to give a more cushiony support for the lumbar and neck.
Features:
Stressless Leg Comfort - a comfortable footrest hidden underneath the seat that is revealed with a light touch of a button. The length can be adjusted to suit all heights.
Swivel with a full 360rotation, you can change your direction with ease.
Stressless Plus this innovative system automatically adjusts the headrest as you recline, giving you uninterrupted eye-line support whether you're watching TV or reading.
Sleep Function transforms the headrest so that it because comfortably flat for you to take that much needed power nap.
Stressless glide system perfectly adapts to your body as soon as you take a seat. You won't feel the chair working against you like with other recliners.
Shown In: Paloma Espresso Leather with Teak Wood
Dimensions
Height (cm): 109.0

Width (cm): 79.0

Depth (cm): 77.0

Technical Specification

10 Year Guarantee on fabrication faults on internal mechanism

Medium: d:77-134cm (Seat Height: 46cm)
Large: h:109cm d:82-134cm w:91cm (Seat Height: 47cm)
Available in a wide range of different leather and fabric colours
Reclining and 360ƒ° swivel action
Select your wood colour
Choose between a mains powered or battery pack
Need to know
Shop Safely at taskers of Accrington
More reasons
To shop at taskers of Accrington