From Only
£1,779.00
RRP
£2,219.00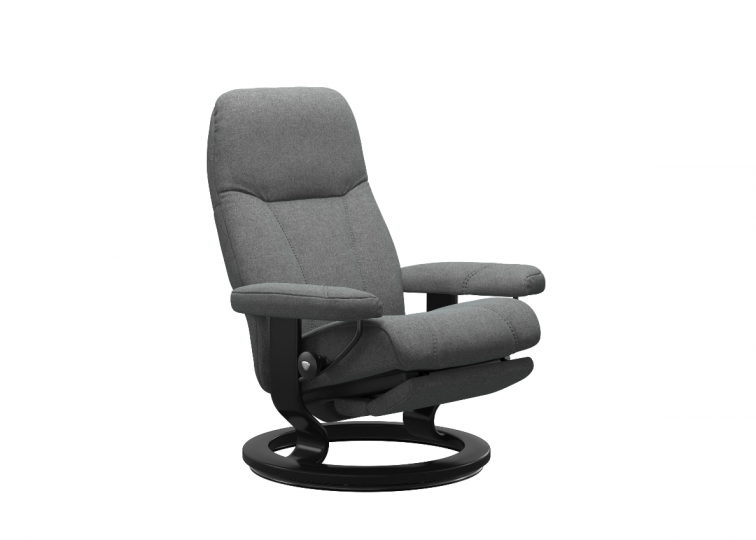 Shop Safely at taskers of Accrington
Product Information
Downloads

Stressless Recliners
Stressless Consul Recliner Chair with Leg Comfort 
Suitable for any home, the Stressless Consul Recliner Chair with Leg Comfort has a universal design that will look great in both a modern or classic style of living room. With its rounded curves and visible seam detail, the Consul is both stylish and practical, as it features the brand's innovative functionalities: 
Stressless Plus - automatically adjusts the headrest to support your neck and lumbar region as you reclaim. This keeps your eye line consistent whether you're reading a book or watching TV.
Stressless glide system responds to your body as soon as you take a seat, meaning you won't need to fight against changing your position like with a lot of recliners.
LegComfort - an elegant footrest is tucked away underneath the seat, ready to be revealed with the light touch of a button.
Sleep Function for when you want to take an afternoon snooze, one simple adjustment to the headrest and it can lay flat so that you can rest comfortably.
Swivel the Classic base allows for complete 360° rotation
Shown In: Calido Light Grey Fabric with Black Wood
Dimensions
Height (cm): 100.0

Width (cm): 85.0

Depth (cm): 77.0

Technical Specification

Medium: h:100.0cm d:74.0-100.0cm w:76.0cm (Seat Height: 45.0cm)

Large: h:100.0cm d:77.0-131.0cm w:85.0cm (Seat Height: 46.0cm)
Choose between mains powered or a battery pack option
10 Year Guarantee on fabrication faults on internal mechanism
Select your wood finish
Wide variety of leather and fabric choices available
Need to know
Shop Safely at taskers of Accrington
More reasons
To shop at taskers of Accrington