Much like all other trends, furniture trends come and go with the seasons and are heavily influenced by evolving design aesthetics and modern culture, which is ever-changing. However, amongst all the changing tides of design, there are a few set pieces that have been widely loved for decades, if not centuries, that have yet to fall by the aesthetic wayside. So, if you're looking to curate a space that feels aimlessly beautiful in your home, we've got some tips for giving your home aesthetic longevity with a few of our favourite timelessly beautiful pieces. 
The much loved Chesterfield sofa
The first and probably the most well recognised of our timeless pieces has to be the Chesterfield sofa. The Chesterfield is far more than a piece of furniture at this point, it's a piece of history. There's many opinions on where this true icon of design gets its name.
One of the most popular theories attributes the creation of this timeless piece to the 4th Earl of Chesterfield, Phillip Stanhope. The story goes that Stanhope commissioned a sofa that was both elegant and comfortable and, most importantly, wouldn't wrinkle a gentleman's clothes as he sat, leading to the creation of a piece with distinctive upholstery featuring deep buttons, rolled arms, a low back, and decorative nailhead accents. Another theory suggests that the sofa owes its name to the city of Chesterfield in Derbyshire, England, where it was first made. 
Despite the lack of consensus on its origins, one thing is sure - the Chesterfield sofa is a classic piece that has stood the test of time and continues to be a beloved addition to any home. We have a stunning collection of Chesterfield sofas here at Taskers from brands like Alexander & James and Tetrad Harris Tweed, all the way up to the more modern scatter-back styles from prestigious suppliers like Alexander & James. And of course, all at the very best prices.
A classic dining table
Dining room trends change, but one thing that will always be a staple in any home is a dining table. Food is one thing that brings the whole family together, and the dining table is where the spirit of family and friendship is nurtured over a meal - so they aren't going anywhere anytime soon. Whether big or small, a dining table is an investment that will stand the test of time. And while there are plenty of stunning contemporary choices, a classic wooden or stone dining table will forever be timeless and beautiful.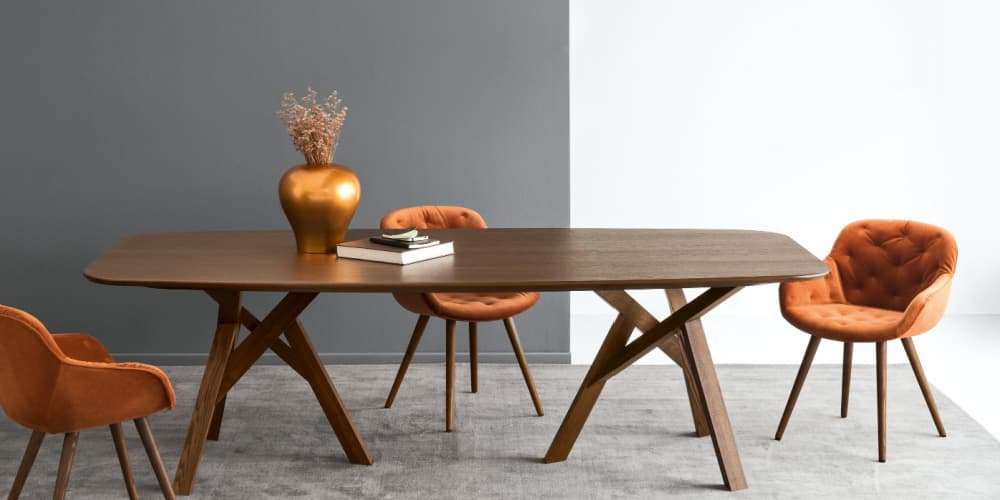 We have no shortage of options here at Taskers. Some of our favourites include the Calligaris Jungle Oval Dining Table and Bontempi Mirage Square Dining Table, but we have an entire range of dining tables for you to browse. Whatever your taste, we're confident we have the perfect dining table for you!
A timeless bookcase
Bookshelves are another classic style that have been around for hundreds of years and aren't going anywhere. They are a timeless staple in interior design due to their versatility, functionality, and aesthetic appeal. Their adaptability to various styles, customisation options, and enduring presence through changing trends ensure they remain an essential and stylish element of any home. 
The shelves can be used to display a variety of items beyond just books, and they can further enhance a room's aesthetics by creating depth and visual interest with interesting or even cherished objects, making them a personal and unique feature of any home. Two of our favourites include the Iain James Occasional Furniture Tall Open Bookcase and the Tom Schneider Swirl Shelves, but we offer a fantastic range of bookcases and shelving units that can help you turn your beloved books and favourite pieces into beautiful features for your interiors!
You can choose from various builds and styles, including options from leading brands such as Baumhaus and Tom Schneider. Whether traditional or contemporary, each piece will be a timeless addition to your home.
Luxurious and timeless pieces are our specialities, so we're confident we have everything you need to turn your home into a stylish space that will never go out of fashion. At Taskers, we're trusted suppliers of expertly crafted furnishings from some of the world's most highly sought-after brands worldwide, including Tetrad, Harrison Beds, Cattelan Italia and Calligaris. 
If you have any questions or need recommendations, our friendly team is always on hand to help you with whatever you need! You can reach us by calling our shop on 01254 375983 or by popping into our expansive showroom on Penny House Lane in Accrington!