Now that summer has ended and we're firmly into the full swing of all things autumnal, it's time to put away the light and airy stylings of warmer months and starts to hunker down for long cosy nights by the fire. At Taskers, when we think of cosy autumnal luxury one specific matters comes to mind: velvet. 
There's nothing better than coming home from a long day out in the cold, to the cosiness of plush, rich velvet furniture with its soft textures and opulent feel. One stand out feature of velvet as a material is that it's not only visually stunning, it's also incredibly durable - making it the perfect choice for sofas and chairs.
Here at Taskers, we offer luxurious sofas from some of the world's most renowned brands, such as Alexander & James, Tetrad and Parker Knoll. These sofas embody elegance and can beautifully complement any interior style, be it modern or traditional (and everything in between). They have timeless appeal and are perfect for enhancing the appearance and comfort of any space! Let's take a look at some of our favourite velvet pieces that infuse your space with cosy luxury this autumn/winter period.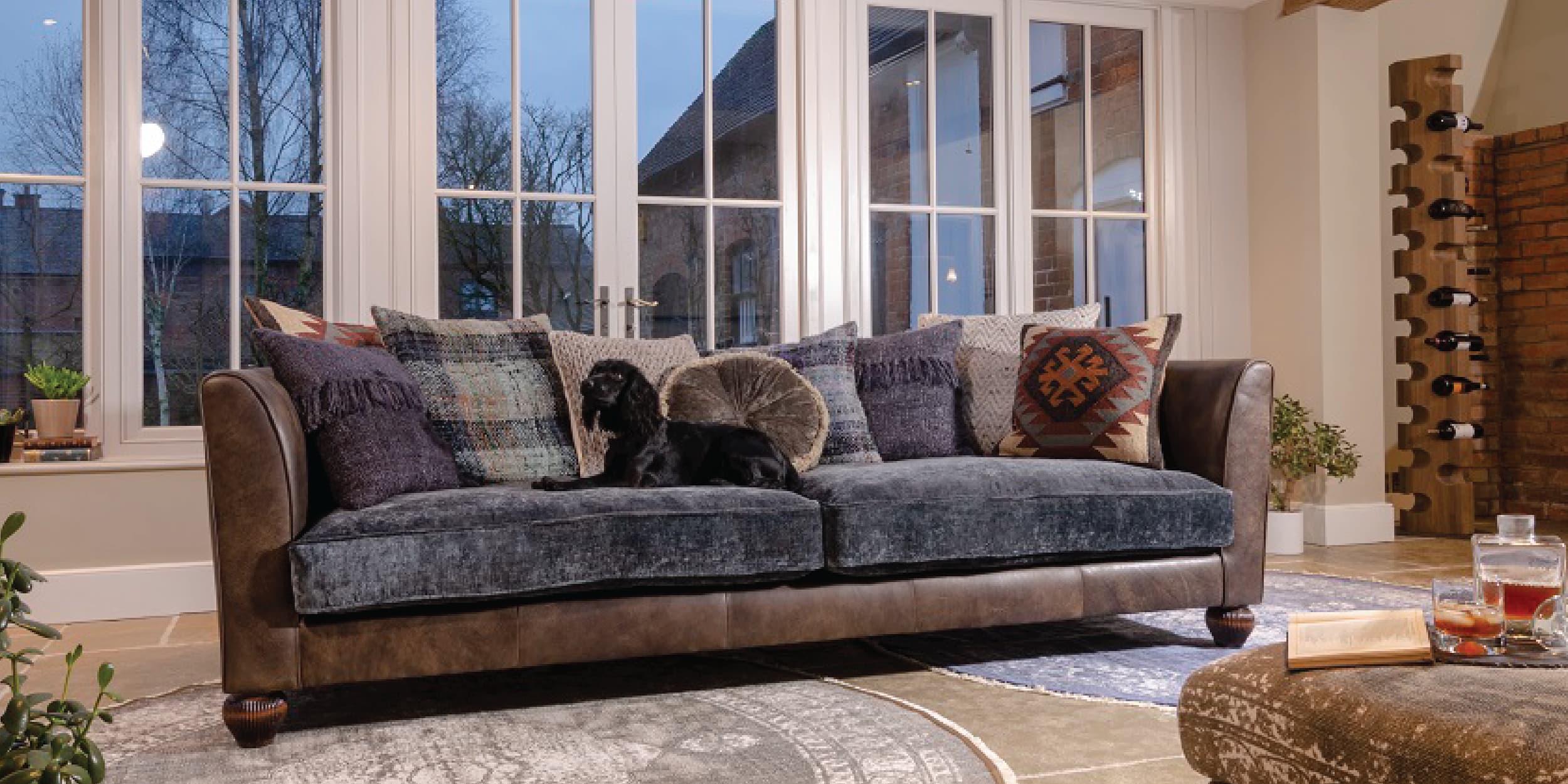 Stunning and stylish sofas
Every living room needs a comfy sofa that invites you to sink in after a long day, and the tactile allure of a velvet sofa not only adds a touch of sophistication but also provides a sense of warmth that is perfect for snuggling up with a hot drink and a good book! Whether it's the lush feel or the stylish aesthetic, velvet sofas effortlessly infuse a room with an inviting and cosy vibe, making them an ideal choice to enhance your living room for winter. Here are a few of our personal favourites we have available right here at Taskers. 
Alexander & James Newmarket Chaise Sofa LHF
We have to start with something large, plush and comfy, like the Alexander & James Newmarket Chaise Sofa LHF. This stunning sofa combines luxurious comfort with a versatile design, and it's perfect for large families, offering a haven of relaxation with its soft, comfortable design. Its squidgy arm pads and pin tuck detailing not only add character but also provide that extra bounce, making it an irresistible spot for both lounging and socialising, especially perfect for the Christmas period.
Ample size isn't the only thing the Alexander & James Newmarket Chaise Sofa LHF has to offer; it's also available in multiple shades, enabling you to select the perfect tone to suit your interior preferences! So whether you're aiming for a modern, contemporary look or a more traditional and homely ambience, this sofa effortlessly complements various interior designs.
Tetrad Duffel Petit Sofa
If you're looking for a cosy and luxurious velvet sofa that fits perfectly in your petite living space, the Tetrad Duffel Petit Sofa is an excellent option you won't want to miss. With its unique and stylish design, this sofa adds a touch of sophistication and flair to your home decor. What's more, it's crafted by the experts at the Tetrad brand with exceptional levels of attention to detail and no expense spared to ensure its quality. At Taskers, we proudly stock the Tetrad Duffel Petit Sofa in a range of lush velvet shades, so you can find the perfect one to match your interior and add a touch of classy cosiness to your home.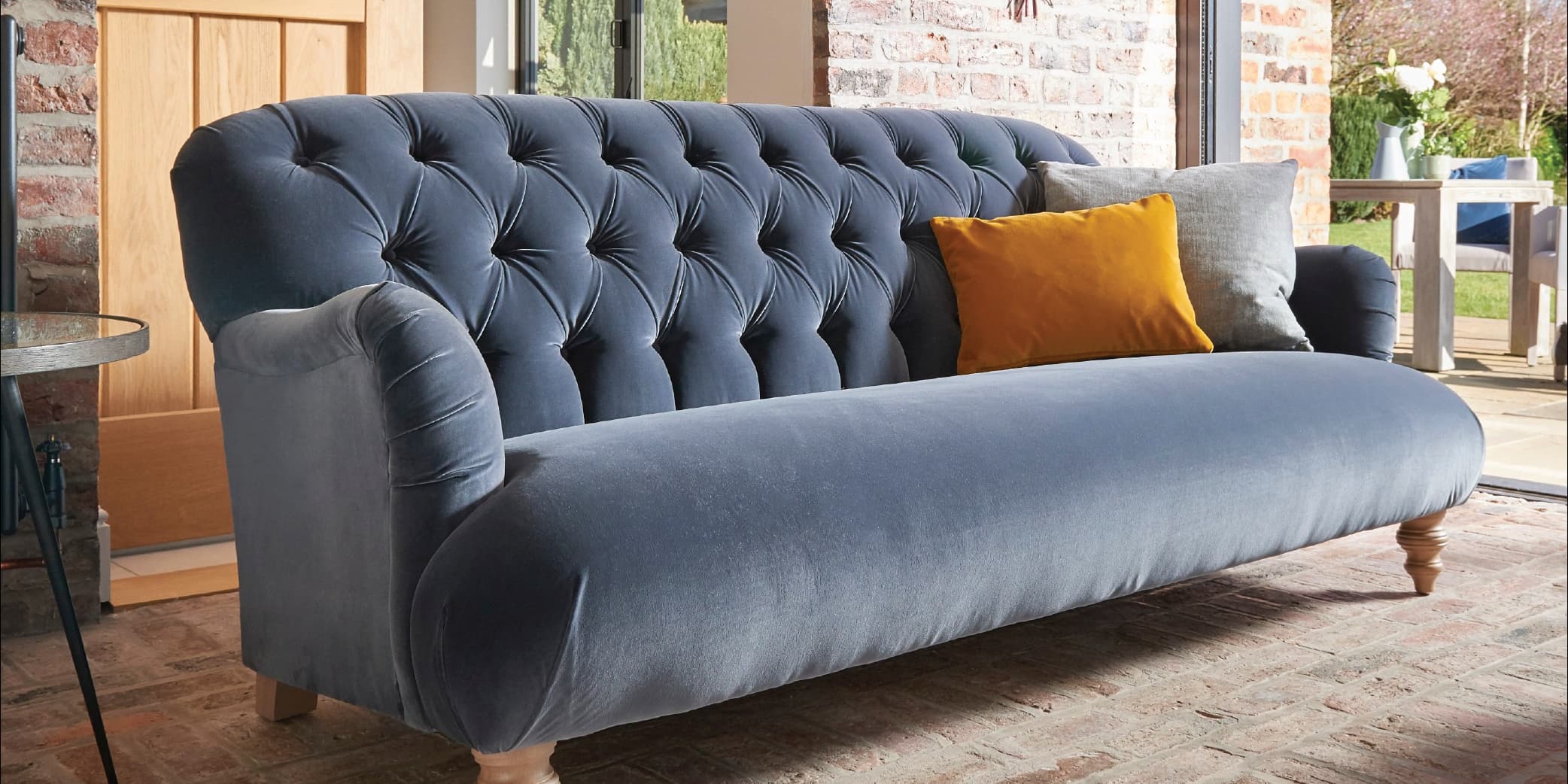 Attractive armchair additions
When there's no room for a sofa, make a sophisticated statement with velvet armchairs. One of velvet's many charms is that its beauty is timeless and versatile. A velvet armchair is piece of furniture that can easily fit into evolving interior design styles, making it a versatile and lasting addition to any home. The combination of luxury and comfort makes it an ideal choice for those seeking both style and cosiness in their home decor. 
So when it comes to velvet armchairs, what are our favourites? Well, truth be told it's hard for us to pick, but if we had to pick a few contenders here's what would be in our list: 
Alexander & James Abraham Junior Fabric Chair
The first armchair on our list would have to be the Alexander & James Abraham Junior Fabric Chair. This armchair is a true classic in furniture design. It is an elegant and stylish armchair inspired by the iconic Chesterfield design, which has been adored for centuries. The chair features studded arms that give it a distinguished and refined look. It is upholstered in luxurious velvet fabric in different shades, ranging from deep and rich hues to soft and subtle tones.
Tetrad Duffel Snuggler Chair
For a slightly more modern approach to velvet armchairs, we'd have to pick the Tetrad Duffel Snuggler Chair. This sleek armchair embodies comfort and relaxation, presenting a laidback, comfortable style featuring with stunning quilted detailing. The unique charm of this particular seat lies in the rounded edges that beautifully complements the overall design. It exudes a blend of uniqueness and contemporary flare with its relaxed shape and tall traditional wooden legs, offering a fusion of classic comfort and modern style!
These recommendations only begin to scratch the surface of the stunning velvet furniture options we have available here at Taskers of Accrington. But as you decorate your home, it's important to remember that the seats and sofas we choose to fill our homes with are more than just pieces of furniture; they're an invitation to unwind, connect, and relax in a space that is truly your own. So, if you'd like to browse our selections for yourself, you can take a look through our Velvet Sofa range and see what calls to you!
At Taskers, we're proud to offer a shopping experience for home furnishings that is exciting and comprehensive! Our showroom boasts impressive themed displays and room sets - including some of our luxury velvet sofas and armchairs! We also carry a wide selection of furniture from top-tier brands such as Tetrad, Alexander & James, Calligaris, and Cattelan Italia. Come visit us and elevate your home decor shopping experience!
If you have any questions regarding any of our luxurious products, feel free to get in touch by calling us on 01254 375983. Our in-house team are always happy to help!