Italy has a truly unrivalled reputation for its remarkable contributions to the world of interior design. Italian furniture has existed for thousands of years and has even been discovered beneath the debris of the historic city of Pompeii. Even today, Italian design is recognised as some of the finest in the world, characterised by elegance, quality, and innovation.
At Taskers of Accrington, we've got particular expertise with beautiful Italian furniture, being proud suppliers of luxury Italian brands like Calliagris, Cattelan Italia and Bontempi Casa. Our appreciation for fine Italian craftsmanship and design is reflected in our extensive collection of furniture pieces, ranging from sleek and modern to ornate and traditional. Whether you're looking to furnish your home with a statement piece or add a touch of elegance to your space, we've got you covered. So if it's your first step into the world of Italian design, let's take a look at the ins and outs of it and discuss why it's so popular across the globe.
Italy's interior design legends
Not only does Italy have some of the finest interior design the world has to offer, but it also has some of the very best and most influential designers in the world that spurred the growth of the Italian design industry.
One of the more recent, notable Italian design legends is none other than Alessandro Mendini. Famed for designs such as the iconic Proust Armchair, Mendini is hailed as a pioneer of Italian design. He helped shape the Italian furniture industry throughout his lengthy career as a designer with his eclectic and postmodern style and impressive craftsmanship.
There's also Gio Ponti, an Italian designer, visionary and arguably one of the world's most influential designers. Ponti earned the title of 'Father of Modern Italian Design' during his impressive career, which spanned six decades. Although he was originally trained in architecture, during the 1950s and 60s, Ponti became a renowned furniture designer. He created several legendary pieces of Italian modernist design furniture throughout his career, including the highly acclaimed 1954 Distex armchair and the 1955 Superleggera chair.
Italy's fascinating history with design
When it comes to design, Italy is a trendsetter for the rest of the world. The craft that emerges out of Italy is time-honed, high-quality and, without a doubt, considered a symbol of luxury. Italian design typically only features the very best materials, and the craftsmanship that goes into Italian design is so skilful and renowned it's sought after all over the world. It's also said that Italian furniture never ages – Italian designers are exceptionally skilled at adapting to changes in trends and time, but pieces never go out of date. Even if they're originally traditional styles, they often manage to avoid becoming dated, instead successfully transitioning into becoming modern classics.
Did you know that:
The world's most extensive furniture exhibition, Salone Internazionale del Mobile di Milano, happens annually in Milan in April. It showcases the latest furniture and design from countries across the globe.

The Italians are masters of mixing styles. Many traditional Italian homes bear older architectural features. These are often blended with newer, more contemporary styles for timeless and elegant results. 

Furniture that combines beauty and elegance with practicality and function are valued and popular concepts in Italian design. 
Luxurious Italian furniture at Taskers of Accrington
At Taskers, we take immense pride in our Italian furniture, which is meticulously crafted using only the finest materials to provide you with the most luxurious home furnishings. As this feature is focused on Italian design, let's take a closer look at our top Italian brands and explore why they are so loved by many of our valued customers.
Calligaris
The Calligaris Home Furniture collection uses advanced lightweight plastics and durable materials like ceramic, tempered glass, and solid wood to create many luxury pieces, including chairs, tables, lighting and storage. In true Italian style, Calligaris products are practical, but they are also stylish and modern. In fact, this established brand is celebrating their 100th birthday in 2023!
Our Calligaris furniture collection offers a range of customisable pieces, with various colour and finish options available. This ensures that you can find the ideal match for your home decor. For example, our Calligaris Jungle Oval Dining Table, Calligaris Outdoor Easy CB3503-1P E Armchair and Calligaris Secret 4-Door Sideboard are a few of our favourite stylish and customisable options from this collection!
Bontempi Casa Furniture
Crafted in Italy, Bontempi Casa has been cladding homes in luxurious Italian designs since 1963. Every dining table and chair is carefully crafted with years of innovation and experience, ensuring that each piece is durable and practical for everyday use. It's no secret that Italians love style and practicality, and Bontempi Casa's creations embody both!
At Bontempi, every piece is crafted using only the finest materials. With a range of customisable options, like our Bontempi Drop Solid Wood Frame Dining Chair or Bontempi Artistico Rectangular Wooden Dining Table, it's easy to seamlessly integrate their furniture into your home. And with fabrics and finishes to suit all home interiors, it's never been easier to infuse your home with the ambience of Italian luxury.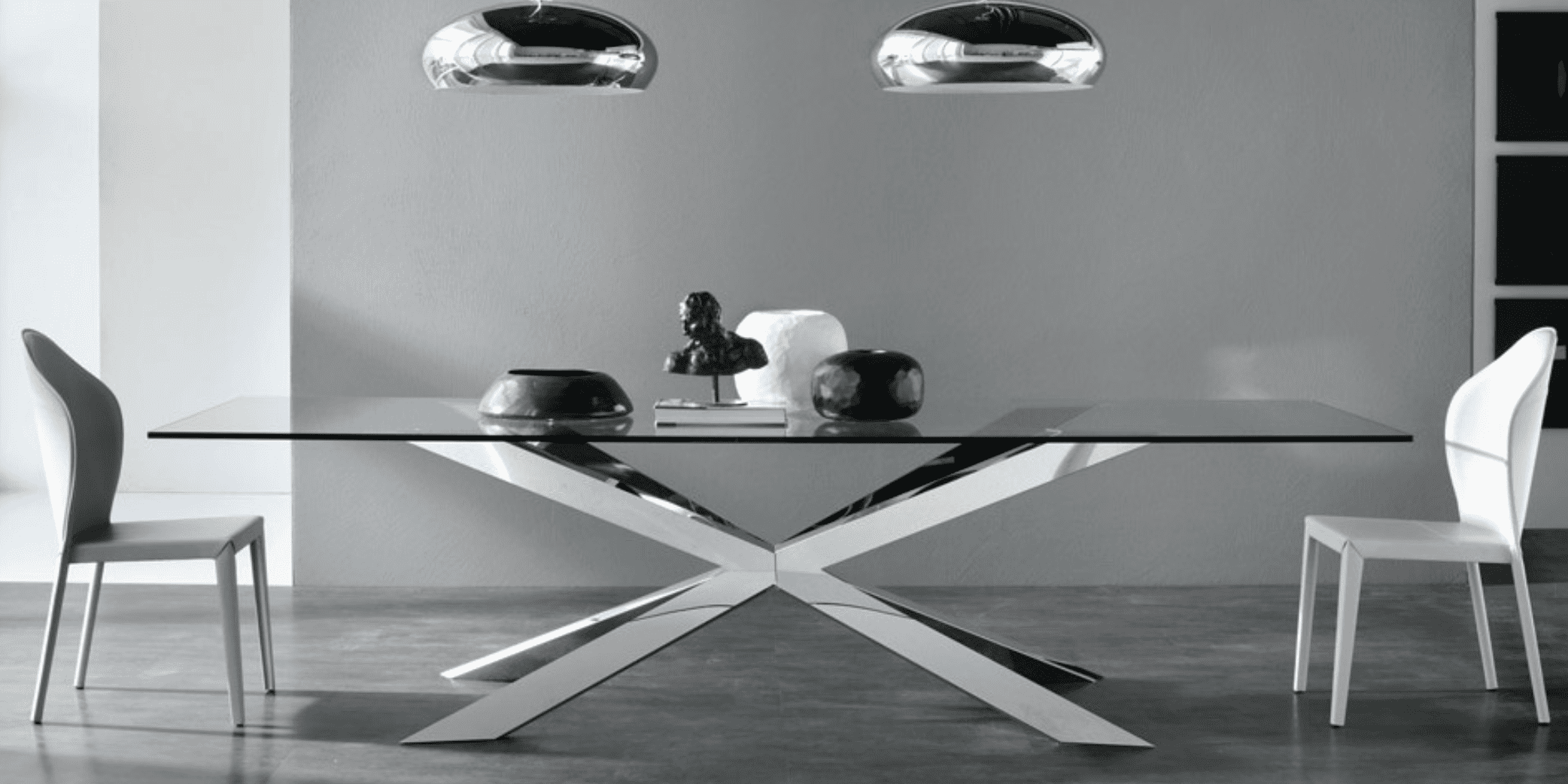 Cattelan Italia
Cattelan Italia has become one of the top players in the furniture industry since its inception over 40 years ago, offering a range of luxurious living and dining furniture. Each piece is uniquely designed with intricate bases and stylish storage units that perfectly complement each other.
All Cattelan products are made entirely in Italy, providing an authentic Italian feel to every table, chair, and sideboard. Attention to detail has been key to Cattelan Italia's success, with every chosen element of their designs serving a specific purpose.
Their unconventional style experimentation, combined with high-quality materials, guarantees that their furniture can withstand the hustle and bustle of everyday life. Whether you prefer a wood, glass, or ceramic finish, you can trust that every piece is crafted to last. Some of our recommendations from this collection are the Cattelan Italia Globe Coffee Table, Cattelan Italia Wall Street Office Desk and Cattelan Italia Kayak 3-Door Sideboard. These pieces embody the unmistakable Italian flair, and they're as beautiful as they are practical.
So, if you're looking for a few new pieces to work into your furniture arrangement, our luxury Italian brands Calligaris, Bontempi Casa, and Cattelan Italia provide the perfect starting points – and you can get them all for the very best prices right here at Taskers of Accrington. If you have any questions regarding anything you see online or anything else we stock, we're always happy to help. Get in touch by calling our shop on 01254 236262, and our in-house team will be happy to assist you!