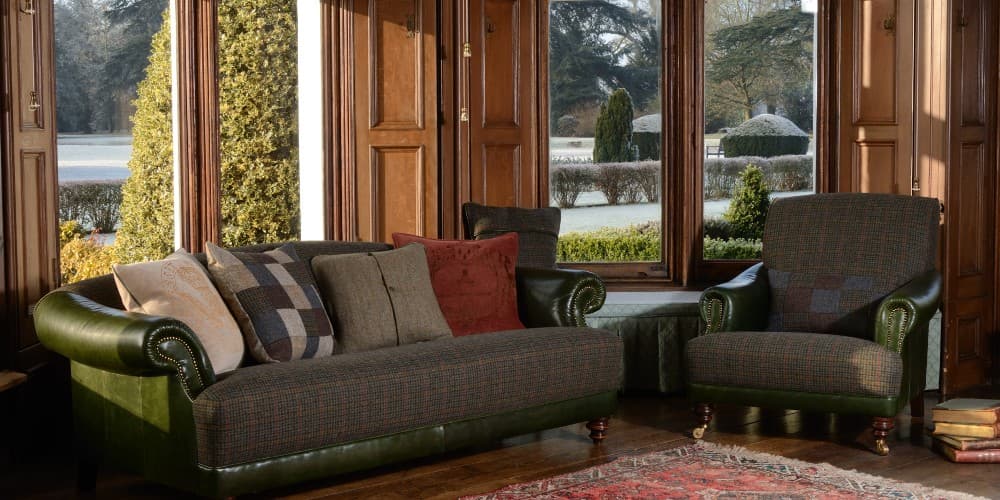 Harris Tweed is manufactured using the finest Scottish Cheviot wool, and it is widely considered to be one of the most remarkable textiles in existence. The brand carries with it a long-standing heritage that could make any business envious! So much so, that the quality standards and protection of the Harris Tweed name are enshrined in the Harris Tweed Act 1993, making it the only fabric in the world that's protected by its own act of Parliament.
Our collection of Tetrad Harris Tweed furniture spans sofas, chairs, beds, and even foot stools here at Taskers of Accrington. But what is it about this uniquely Scottish weave that's made it such a popular choice for many of our clients over the years?
A brief history of Harris Tweed
The story of Harris Tweed begins centuries ago, when islanders of Lewis and Harris, the Uists, Benbecula and Barra wove cloth known as clò-mòr (which literally translates to "big cloth"). The cloth was used for both personal and practical functions, often favoured by the locals as the ideal choice for protection against the cold harsh climate of Northern Scotland.
As the years went by, the fabric became a popular trade item for islanders, and by the end of the 18th century, the handmade cloth was exported to the Scottish mainland. At this point, the production of tweed in Outer Hebrides was still entirely manual, and it's during this period that the North Harris Estate was inherited by Alexander Murray, 6th Earl of Dunmore.
However, after the untimely death of the Earl in 1843, the responsibility for his estate on the Isle of Harris passed to his wife, Lady Catherine Herbert. Lady Catherine realised the marketing potential of high quality tweed cloth, and had her eye caught by the handiwork of two sisters from the village of Strond, whose tweed was of an exceptionally high quality. Lady Catherine commissioned the sisters to weave lengths of tweed for her, and promoted the local textile as a fashionable cloth for hunting and sports wear. Before long, Harris Tweed became the fabric of choice for the landed gentry and aristocracy of the time, and the company has gone from strength to strength ever since.
What Harris Tweed can bring to your interiors?
Harris Tweed is an ideal choice of fabric for home furnishings, swaddling sofas, armchairs and stools. In the years since the company established itself as the go-to for luxury Scottish tweed, it's been used to furnish some of the most high-specification hotel fit-outs and luxury furniture ranges in the country.
The woven fabric offers a classic sense of luxury that you don't get with any other material, and what makes Harris Tweed so special is that it's literally woven in weaver's sheds across the Islands of the Outer Hebrides. Up to twelve colours can go into a single string, and there are close to 60 colours to choose from. These colours are made to reflect the rural landscape of Scotland and were originally coloured with dyes from local plants and lichens. We're proud to offer a range of Tetrad Harris Tweed furniture options here at Taskers of Accrington, such as Tetrad Harris Tweed Abelour Sofas and Chairs, and Tetrad Harris Tweed Eriskay Bedroom Furniture, which you can use to bring an unmistakable sense of Scottish gravitas to your interiors.
If you're in need of some further inspiration, we offer perhaps the most exciting home furnishing shopping experience in the North West. Our newly refurbished showroom includes themed displays and room sets showcasing lounge and dining furniture, an expanded bedroom furniture studio and brand new lighting and home accessories departments.
If you have any questions regarding any of our fantastic Tetrad Harris Tweed products, feel free to get in touch by calling us on: 01254236262, or emailing us at sales@taskers.com. Our in-house team are always happy to help!
---
Stay up to date with the latest trends, sales, competitions and more by following our social media pages: