When we think of Scandi interior design, we imagine a sleek and functional space with minimal clutter. It embodies minimalism in the best way possible and is perfect for those who love bright and light spaces and believe in the principles of a tidy home, and the less is more philosophy. If this resonates with you and you're wondering how to achieve the calming simplicity of Scandi design in your home, look no further!
At Taskers of Accrington, we're experts in beautiful design and luxury furniture. So we've put together the basics of Scandi design so you can learn what it is and how to achieve it in your home with our stunning accessories.
What is Scandi?
Scandi is a world-famous interior design theme characterised by simplicity and minimalism. This no-fuss, functionality-first style originated at the start of the 20th century. It rapidly gained popularity in the 1950s in the five Nordic countries of Denmark, Finland, Iceland, Norway, and Sweden.
The Scandi style is well-known for its modern and minimalist aesthetic that evokes a warm and inviting atmosphere. This design approach is a favourite among interior designers due to its sophisticated, lavish, and hygge-inspired elements that create a sense of luxury and comfort in any space.
How to achieve a Scandi-style home
As well as modern minimalism, the style of Scandi embraces sustainability. Creating the perfect Scandi space can be tricky if you're unsure of where to begin. So here are some essential elements to incorporate when rearranging your room:
Say goodbye to clutter.
Bring nature indoors with sleek greenery such as monstera, aloe vera and snake plants!
Incorporate boho vibes with light woods accents and natural textures such as bamboo.
Think hygge (A word used in Denmark and Norway that describes a mood of cosiness and "comfortable conviviality"). A fire place, comfy throws/pillows and candles are all great ways to embrace the hygge life.
Opt for neutral and natural muted tones. Keep it light and simple
Soothing Scandi accessories to incorporate into your space
Now we have the basics of what it means to have a Scandi interior covered. What items and elements can you bring into your space to really finish off the look? If you're looking for more significant furniture pieces as well as accessories, we'd recommend our SITS sofa range for some truly cutting-edge and beautifully comfy Swedish luxury. This brand is recognised all over the world for their outstanding designs and build quality, so it's a great choice for any Scandi-style interior.
If it's dining tables, sideboards, cabinets or coffee tables you're after, we absolutely love our Scandi Furniture Range! This collection is guaranteed to never go out of style and has everything you need to set up a beautifully understated living and dining area - creating the very image of contemporary comfort. And, finally onto our Scandi Haven accessories line! This collection of soothing accessories will really tie your new Scandi space together. Here's what we'd recommend:
 Vases
The Scandinavians have undoubtedly mastered the art of design - especially in ceramics. So unsurprisingly, pottery is a staple element of any Scandi home. From the 1920s to the 1960s, ceramics reached a new height of popularity, with artists focusing on creating inexpensive and beautiful pieces that could bring a sense of contemporary comfort to any home.
So if you're seeking the elegant and timeless look of Scandi sculptures, we'd suggest our smooth and stunning Soren Vase in Light Grey. This piece perfectly captures the true meaning of hygge with its balance of beauty and simplicity. If you prefer a little more texture, the Abelia Vase is the way to go. Its depth adds a subtle yet impactful layer of visual interest to your space, achieving that sought-after minimalistic look. For something slightly left of centre but still in keeping with the theme, our Organic Form Double Footed White Ceramic Bud Vase is as beautiful as it is unusual. So if you love the look of the delightfully different it's a perfect match!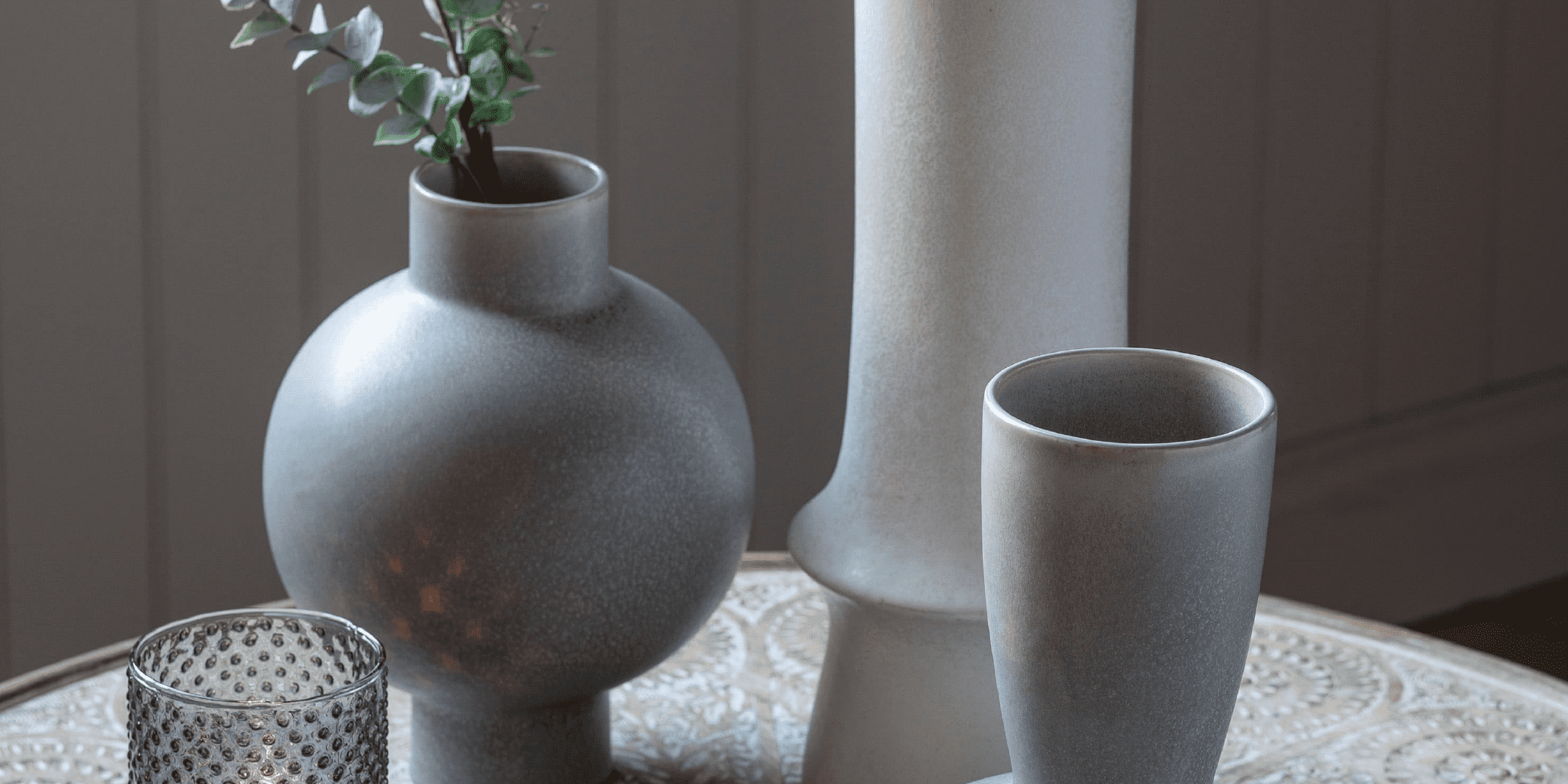 Rugs and soft furnishings
In Scandi interiors, soft furnishings play a significant role in enhancing the comfort level. So it's essential to have a beautiful rug to complete your hygge home. Choose tones that are strongly associated with the design style to ensure that every aspect of your home looks cohesive and in line with the theme like our Berber Natural Cream/Black Rug, Asiatic Matrix Arc Pastel Rug and Asiatic Matrix Sofia Natural Rug.
Now the floor is covered (literally), let's talk cushions. Like everything else in a Scandi home, the cushions your select should be cosy and neutral - but that doesn't mean they can't have personality! Our Dreamweavers Pebble White Cushion is the perfect example of a visually appealing and wonderfully tactile piece that's comfy yet still on theme. Our range of Dreamweavers cushions come in a vast array of varying colours, so no matter what you take on hygge is, we have the soft furnishings for you.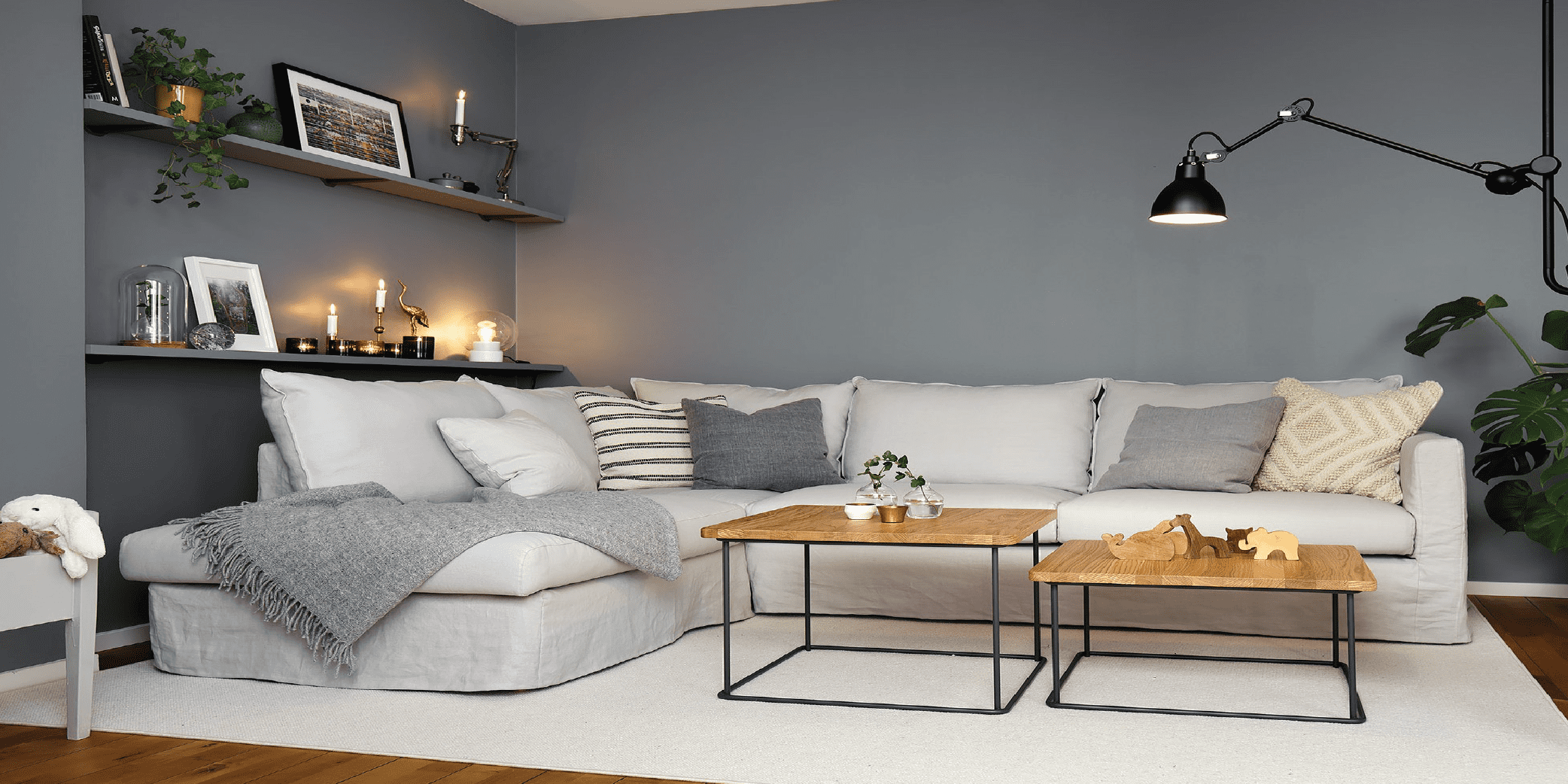 Art, ornaments and miscellaneous accessories
Minimalist design is all about the details, so when adding a burst of personality and colour to your space, art, ornaments, and accessories are the perfect route. No wall is complete without a clock and framed print. We love the cosy yet straightforward vibes of our Natural Wood Veneer Tear Wall Clock and Box Office Framed Picture. Everyone needs a clock on the wall, and there's something about books that exudes the comfortable element widely associated with Scandi.
Your style should extend beyond just your decor into everything part of the home. Consider incorporating eye-catching crockery that complements the aesthetic of your space. Our 3 Piece White Multi Faces Tea Set is functional and a beautiful addition to any Scandi-style environment. Plus, having a cup of tea close at hand is always nice!
Ready to get started on your Scandi-inspired home? Now you have the basics of Scandi down, you can create your own light, contemporary, cosy and functional space. Scandi homes are the perfect vessel for appreciating and enjoying your possessions and the peace they bring, but that doesn't mean you can't make it your own. Ultimately, our space should reflect who you are and what you love! So if you don't follow this guide to a tee, that's okay!
At Taskers of Accrington, we understand that everyone has their unique style, and sometimes the best solution is to mix what you like with the trends you love! If you have any questions regarding any of our Scandi furnishing options or any of our other products, get in touch today by calling us on 01254236262, and a member of our friendly team will be happy to help!