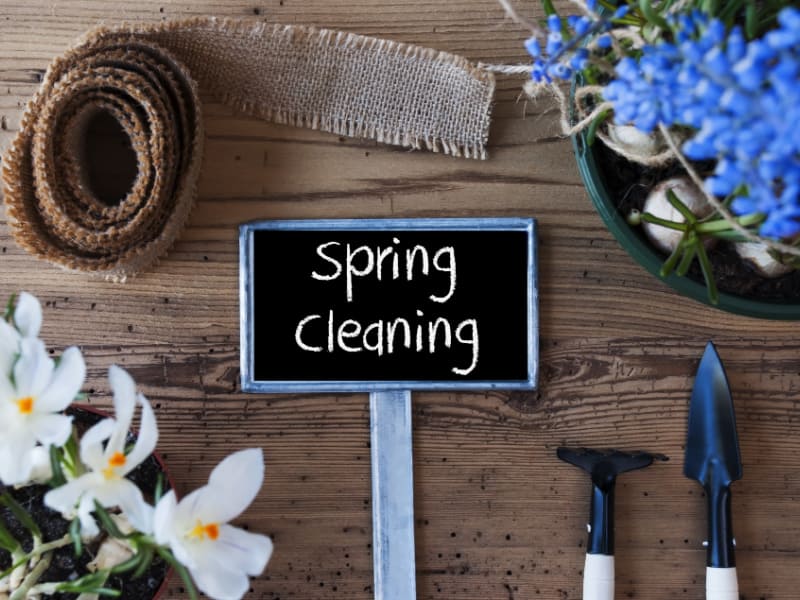 Spring is in the air, and it's time for a fresh start! A spring clean is a great way to shake off the winter blues and get your home looking and feeling fresh and new. We've been providing our customers with a range of fresh furnishing options for over a century here at Taskers of Accrington, so we've put together some top tips that you can use to help you achieve the perfect spring clean for your home.
Declutter
Decluttering each room within your home is always a good starting point when it comes to Spring cleaning. To do this, go through every room and storage unit in your home and decide what you want to keep, donate, or throw away. Get rid of anything you haven't used in a while or has outstayed its welcome within your home, and make sure to check in all those potential clutter hubs like under your bed and in your wardrobes and have a good clear out of any old clothes, nick-nacks and random items. You'll have a delightfully decluttered space in no time!
Clean from top to bottom
When it's time to start cleaning, it's best to work from the top down. Start with the ceilings and walls, clearing away any unsightly cobwebs and dusting down any high surfaces that require it. Then, move on to the windows and furniture, hoovering between cushions and ensuring there aren't any stains on your glass. Finally, clean the floors by giving them a good sweep or hoover, and finish off any hard surfaces with a mop to disinfect the surface and leave it smelling clean.
Don't forget the details
It's easy to overlook the smaller details when you're doing a big clean. So, a few good tips include to clean light fixtures, skirting boards, and hard to reach areas like the tops of door frames and cupboards. As an added tip, be sure to dust any of decorative items you might have on your shelves and windowsills, as these can get very dusty when left for a long enough period! It's often the case that it's the smallest details can make the biggest difference to the overall aesthetic of your home, so be sure to keep a sharp eye when moving through the rooms in your home.
Reward yourself
Finally, don't forget to reward yourself for a job well done! Split your clean-up into segments and reward yourself with regular breaks every 45mins - 1hour so that you're not working through it all in one big slog! Once you're finished, kick back with your favourite sweet treat and a hot drink, you've earned it! And if you're looking to start off the season of new beginnings by adding some new luxury furnishing options to your space, you're in exactly the right place!
We offer the most exciting home furnishing shopping experience in the North West. Our newly refurbished showroom includes themed displays and room sets showcasing lounge and dining furniture from a range of top brands like Tetrad, G Plan, Calligaris and Cattelan Italia.
What's more, our showroom now features an expanded bedroom furniture studio and brand new lighting and home accessories departments for you to explore. If you have any questions regarding any of our luxurious products, feel free to get in touch by calling us on 01254236262, our in-house team are always happy to help!