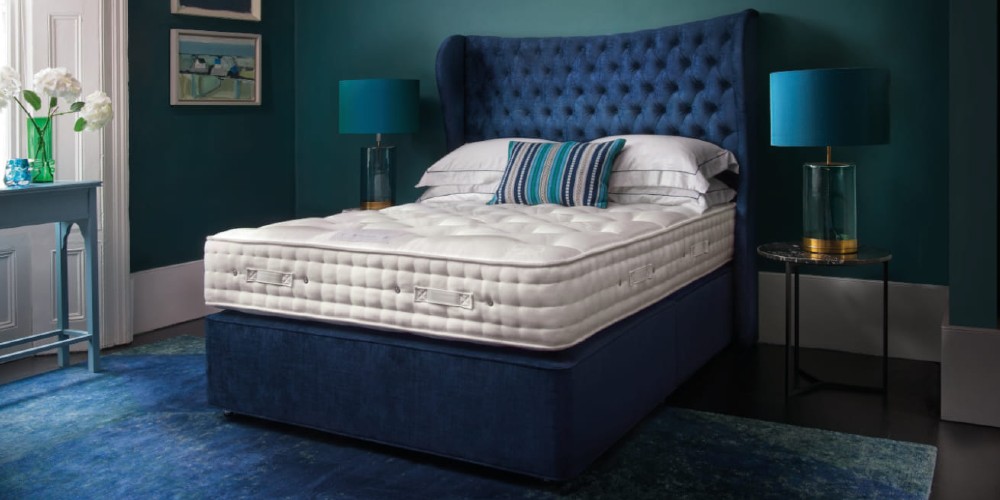 Divan beds are a fantastic storage solution that can be perfectly integrated into any bedroom. Their streamlined design takes up far less space than a traditional bedframe, and they feature concealed drawers which are ideal for spare bedding, unseasonal clothes and other bulky items that can be difficult to store.
At Taskers of Accrington we've got a wide selection of fantastic divan beds from some of the most trusted brands in the industry, such as Tempur, Hypnos and Harrison Spinks. So, what makes these divan beds so perennially popular amongst our customers?
What is a divan bed?
Typically, divan beds are crafted from a wooden structure, covered in a layer of soft wadding and then upholstered in fabric. It's common to see divan beds without headboards, but we stock a variety of divan headboards here at Taskers of Accrington, so whether you prefer a headboard or not, we've got an option to suit you.
The base of a divan bed is designed to fit the specific measurements of a mattress, so it can slide into place effortlessly to create a gorgeously clean and minimalist aesthetic.
Each divan bed's defining feature, though, is its versatile storage drawers. These offer you a fantastic hidden storage solution which can be used to store anything from spare pillows and sheets, to shoes and off-season clothes. Divan beds are a very popular choice with buyers who are looking for sleek, clever, minimalist furnishing options.
Benefits of a divan bed
Divan beds feature a variety of benefits that make them a fantastic option for anyone.
• Easy to assemble -  they're by far the easiest type of bed to assemble. Coming in two base halves (or one whole piece if you buy a single-sized bed), the simple structure and easy to follow instructions mean it won't take you long to assemble at all.
• Can be bought to pair with any mattress - our selection of divan beds can be paired with any kind of mattress, from gel-based to spring-based. Whatever your taste, we've got a divan bed to suit you.
• Space saving - divan beds appear slightly larger than standard bed frames, as they often have a larger headboard and seem more padded, but they're actually smaller because the mattress fits flush to the sides of the divan base, which takes up much less room.
• Customisable storage space - divan beds are very practical in this regard. They can be purchased with a variety of storage options in a range of sizes. Whatever your storage needs, you can be sure that there's a divan bed out there for you.
Here at Taskers of Accrington, we have a wide range of stunning divan beds for you to choose from. Interested? We offer the most exciting home furnishing shopping experience in the North West. Our newly refurbished showroom includes themed displays and room sets showcasing lounge and dining furniture, an expanded bedroom furniture studio and brand new lighting and home accessories departments.
If you have any questions regarding any of our divan beds - or anything else we stock at Taskers - rest assured we're here to help. Feel free to get in touch by calling us on 01254236262, or emailing us at sales@taskers.com. Our in-house team are always happy to help!
---
Stay up to date with the latest trends, sales, competitions and more by following our social media pages: