Valentine's Day is fast approaching! So, to celebrate, here at Taskers of Accrington, we've put together a few of our favourite Valentine's Day decorating techniques that you can use to turn your home into the perfect love nest for that special someone. Whether you're going out to enjoy a bit of fine dining and wining, or you're planning to curl up on the sofa in your pyjamas with a takeaway, here're the simplest ways to add a little love to your home this Valentine's Day.
Flower power
By the time February rolls around, we're all ready for a taste of spring, and that means flowers. If you're planning on creating a floral arrangement to gift to your significant other this Valentine's Day, then we've got some advice. Of course, you can't go wrong with a classic bunch of roses… however, if you feel like breaking the mould, then why not consider carnations, peonies and gardenias for an alternate delicate-looking arrangement?
Try arranging these flowers into a delightful bouquet which you can place on your dining room table, as it's a great way to bring some Valentine's Day charm to your dining experience. What's more, if you're looking to add some more delightful opulence to your dining room experience, why not consider taking a look through our vast selection of dining tables?
Heat things up around the fireplace
If you're lucky enough to own a fireplace in your home, then you'll already know that it's one of the most striking features of any living-room design. Given it's such a prominent part of your lounge, why not make it a focal point of your Valentine's Day design? Try adding some romantic whimsy to your space by adding some paper garlands to the fireplace - hearts are always a good bet, or letters spelling out your loved one's name.
If you're up to the task, there are an infinite number of ways to craft the perfect strand of garland, and they make for a really personal, heartfelt gift. As a last note - if you own a collection of Valentine's Day cards that you've kept from your significant other over the years, then you can attach them to a long piece of ribbon and display them.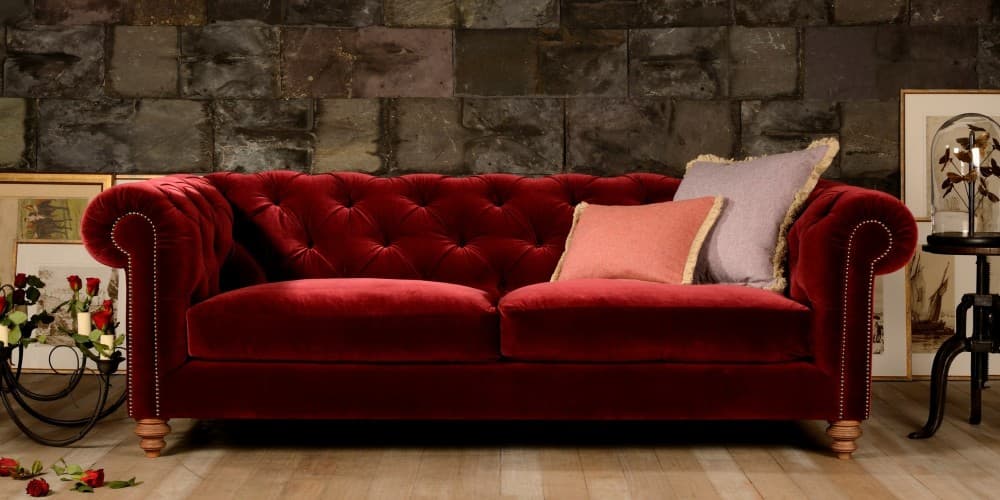 Set the mood with some candles
There's just something really cosy and warm about a lit candle or fireplace. They're absolutely perfect for lending a soft glow to your space and creating a romantic atmosphere. As a general rule for candles on Valentine's Day, the more the merrier! Try to mix up your colour scheme of your candle placement though so that it reflects the style of Valentine's Day (red, white and gold are always very on-brand colours when it comes to romance).
What's more, why not add an extra layer of intimacy to your home with one of our delightful snuggler chairs? Our selection of snuggler chairs neatly bridge the gap between an armchair and a two seater sofa, and feature a spacious seat cushion that can easily accommodate two people - perfect for cuddling up on!
We adore Valentine's Day here at Taskers of Accrington, and if you're looking to fill your living space with some luxury furnishings before the special day, you're in exactly the right place. Feel free to come by our newly refurbished showroom, which now includes themed displays, room sets showcasing lounge and dining furniture, an expanded bedroom furniture studio and a brand new lighting and home accessories department.
We supply expertly crafted furnishings from some of the most highly sought after brands in the world, including Tetrad, Harrison Beds, Cattelan Italia and Calligaris furniture.
If you have any questions regarding anything you see online, or anything else we stock at Taskers of Accrington, rest assured we're here to help. Feel free to get in touch by calling us on 01254236262, or emailing us at sales@taskers.com. Our in-house team are always happy to help!