Those who love to read know the familiar struggle of finding a quiet and comfy space to settle in with a cup of tea and immerse in a good book - it can be challenging! So what's the solution? A reading nook! A small space styled to your tastes and dedicated to all things written where you can sit and enjoy your favourite literature, fiction, biographies and more until your heart's content.
At Taskers of Accrington, we love a good book, and we love styling space fit for purpose, so it's a perfect match! So, for all the book lovers looking to create a cosy retreat, we've got you covered with this guide on creating the cosiest reading nook for your home.
Reading nook staples
We're sure fellow bibliophiles will agree that the beauty of a book lies within the fact that you don't need anything other than the pages between your fingers to get sucked into a good story. Still, a couple of comfortable furnishings make everything so much better! A reading nook is one of those projects that doesn't require much effort, and while it serves a very practical purpose, it looks just as beautiful as a feature in your home. All you need to get started is a couple of pieces you may even already have.
To build the perfect reading nook you'll need the following:
A bookcase
A comfy chair
A side table
Good lighting
Cosy furnishings
Accessories
Books
The chances are as a reader you'll probably have a few of these components already in your possession, but if you don't, not to worry! At Taskers of Accrington, we have everything you need and more, from bookcases to armchairs to lamps. So let's dive right in to setting up your nook.
Setting up your reading nook
Now you've gathered everything you need, you can finally get started! First things first, you need to decide where you're going to place your nook. Anywhere works, so it really is completely up to you, but if you're looking for some recommendations we'd suggest:
A cosy corner
By large bay window for natural light
A spare storage room large enough to walk in - it doesn't have to be too large
Setting up your book case and chair
Now you've decided on your location, it's time to get to work. Start with your most significant pieces first, like your chair and bookcase. These two pieces make up the foundation of your reading space. Arrange them in a way that feels comfy and balanced and, of course - a way that looks great! If you don't have an arm chair or book case we have plenty of options that would suit this endeavour perfectly.
When it comes to bookcases we absolutely love the luxury and character of our Iain James Occasional Furniture Tall Open Bookcase, if you're looking to achieve gives that perfect quiet library feel, this is certainly the one. Pair it with our Alexander & James Ossie Chair, for that timeless bookish feel.
If the traditional look isn't for you and instead you'd like something with a more contemporary and modern feel, then the combination of our Alf Italia Alessandria Bookcase and Alexander & James Perry Chair is a more chic, yet still comfortable alternative!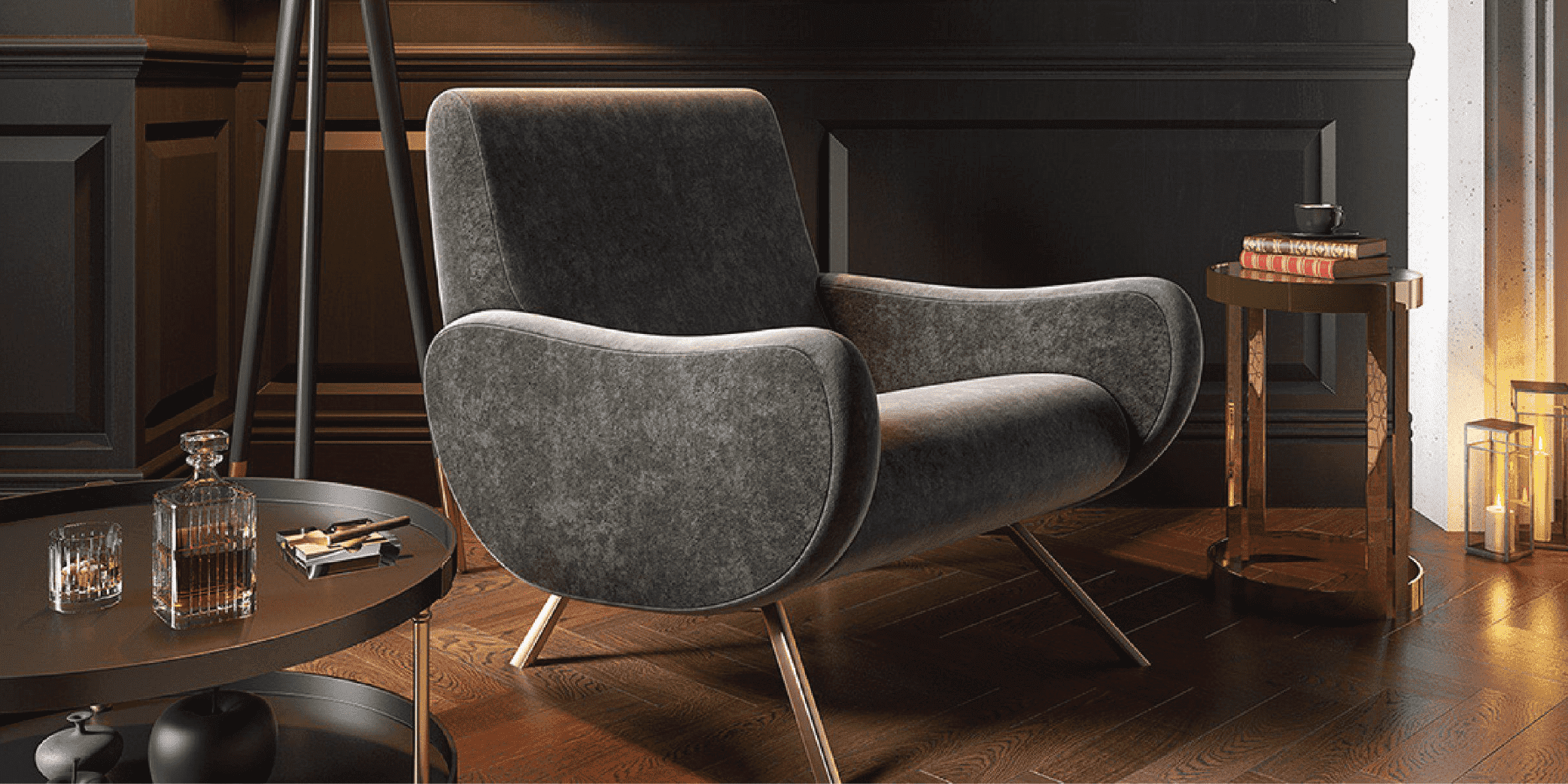 Adding the side table and lighting
Now the bulk of the heavy lifting is out of the way, it's time to start putting the rest of your space together. No great reading nook is complete without a table to place your cup of tea and some task lighting (there's nothing cosy about eye strain). Task lighting is bright enough to accomplish tasks easily - like picking out your book!
Following on with our classic and modern examples, to match the traditional option, we'd have to suggest the Iain James Occasional Furniture Nest of Three Tables to match the bookshelf. These pieces together give everything a purposeful, uniform feel like that of a stately house plucked straight from classic literature tales. Then, finish off the furniture with a lamp in a complementary style; make sure the bulb is bright enough so that you can easily see without straining but not so bright that it disrupts the ambience.To pair with our more modern approach, the Alf Italia Alessandria Lamp Table and Grey Tripod Floor Lamp with Shelf is the ultimate combination!
Accessorise!
Now the furniture is all taken care of, it's time to add those finishing touches! Start with soft furnishings, as well as anything else that'll help you feel comfy and cosy while you read for hours. So we're taking rugs, cushions, blankets and throws - you name it! At Taskers, we have a vast section of soft furnishings that you can use to personalise your new reading space!
Apart from that, we have a range of art, sculptures and home accessories to dress up your space further and give that curated look. A top tip for decorating is if you have any extra space inside your bookshelf after you've filled it with your books, add some accessories! There's no reason it has to sit there empty. Use the space by adding some extra intricacies for additional visual appeal.
Ultimately though, however you want to dress your reading nook up or down is entirely up to you! It should be a space that you want to spend time in, even if it's small. You don't need to follow every tip we've used to the letter. Just let your creativity take over and enjoy the process. But if you are looking for furniture pieces and accessories to help take your space to the next level, you're in the right place.
We supply expertly crafted furnishings from some of the world's most highly sought-after brands at Taskers of Accrington, including Tetrad, Harrison Beds, Cattelan Italia and Calligaris. If you have any questions or need recommendations, our friendly team is always on hand to help you with whatever you need! Get in touch with us today by calling our shop on 01254 236262 or by popping into our expansive showroom on Penny House Lane, Accrington.