Creating a soothing ambience with décor is the secret sauce to enhancing the comfort of your living room. It's about crafting an atmosphere of tranquility and warmth that welcomes relaxation. As the leaves outside start to turn shades of red and gold, it's the perfect time to start infusing your space with the cosy embrace of autumn.
At Taskers of Accrington, we understand the significance of making your house feel like a home. Whether you're opting for a full-scale living room redecoration project or simply seeking ways to enhance the warmth and cosiness you're already working with, we've got you covered. Let's go through some of the key elements to consider when creating an autumnal atmosphere in your living room.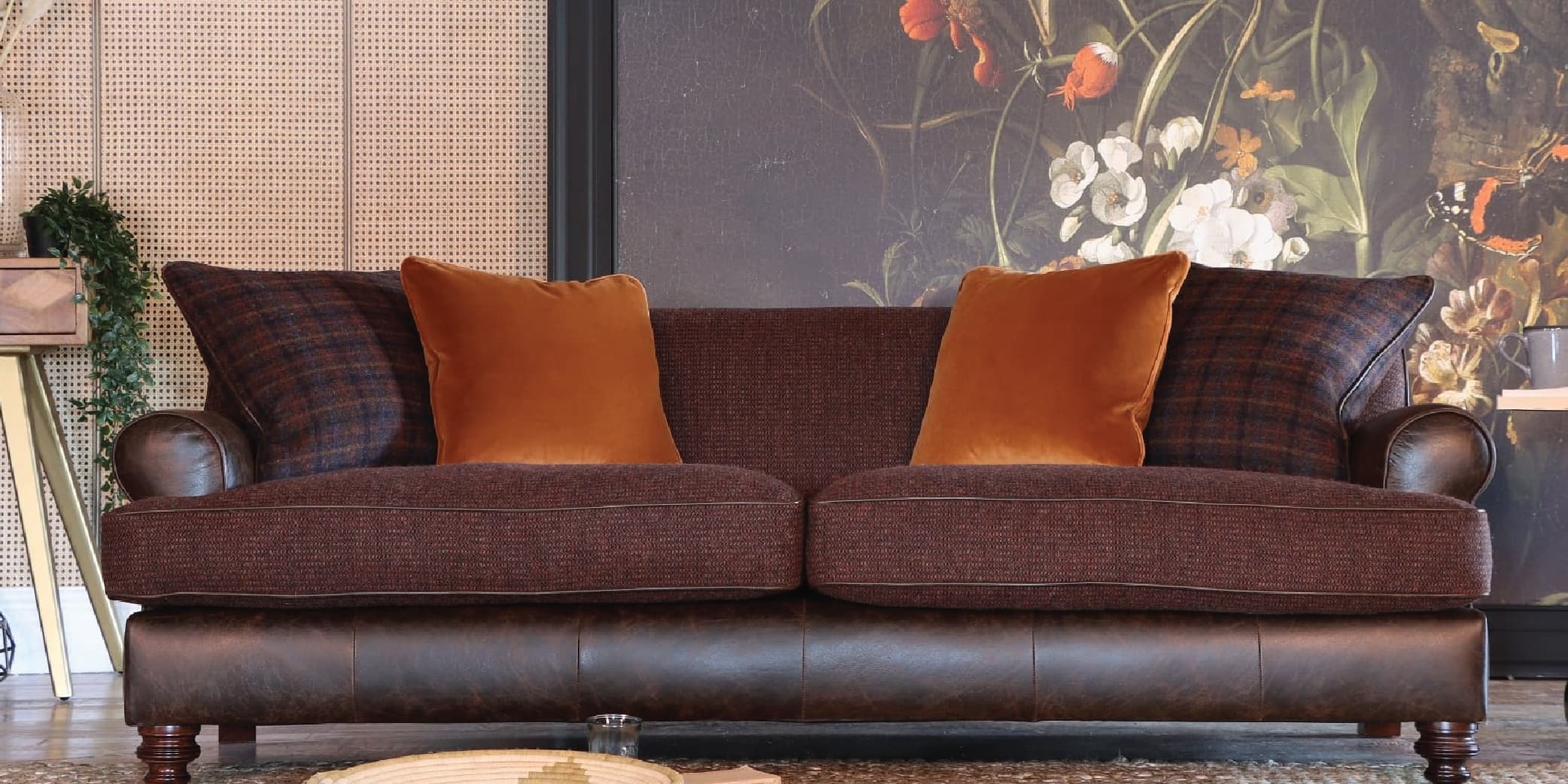 1. Embrace rich and warm colour palettes
Autumn is all about rich, warm colours that mirror the changing hues of nature. These colours not only create a cosy feeling but also have a positive impact on your mental well-being. The season's top shades are red, burnt orange, deep brown, regal purple, and warm yellows. The science behind this phenomenon lies in the fact warmer tones have longer wavelengths, making your eyes perceive them faster than cooler-toned colours. When decorating your living room, incorporate these hues to evoke a welcoming and comforting ambience. You don't need to repaint every wall - in fact, you don't need to paint at all! Instead, consider using these colours in your soft furnishings, home decor, and accessories. We have plenty of new autumnal accessories and displays in store to give you some inspiration!
2. Illuminate with warm lighting
Lighting plays a pivotal role in infusing your living room with a warm and inviting autumnal ambience. You can opt for tall floor lamps like our Gold Stem Lamp with Brown Hide Shade or Wooden Column Floor Lamp with Black Shade to cast a warm glow over the room without over illuminating it (soft, warm-toned bulbs to achieve this effect). The soothing glow the lamps casts can metamorphose your space into a haven of comfort, ideal for unwinding in or hosting cosy gatherings with loved ones. With the right lighting choices, you can curate the perfect mood for your living room, making it a snug and welcoming retreat you'll love coming home to after a long day out in the cold weather.
3. Add texture and warm layers
One of the secrets to achieving an inviting autumnal atmosphere is to layer your living room with textures and cosy elements. Think soft, textured rugs like our Asiatic Plush Rust Rug or Dreamweavers Spiky White Rug and plush furnishings like our Dreamweavers Spiky Red Cushion and Scatter Box Halo Throw Pumpkin. These additions add warmth and create a visual and tactile sense of comfort. A shaggy rug, in particular, can provide that extra cushion underfoot, making your living room feel like a welcoming sanctuary. Even better, rugs absorb sound, creating a quieter and more peaceful environment to relax in.
4. Create a sense of cosiness with candles
Candles are the embodiment of warmth and cosiness and for us, it's all about Marmalade of London Glass Jar Candles! And we especially love Cassis & White Cedar for this time of year. The earthy, woody, and spicy notes reminiscent of blackberry brambles mingle beautifully to create an autumnal atmosphere.
The flickering flame of a candle can also instantly create a soothing ambience in your living room. For a more classic autumn experience, you can't go wrong with a pumpkin spice or cinnamon scent. These comforting fragrances will evoke the spirit of the season and further enhance the cosy atmosphere. You can arrange them on your coffee table, mantle, or in even go for something more regal like a candelabra on the dining table to add a touch of elegance.
5. Craft an autumnal display
Consider creating a captivating seasonal display in your living room for a truly immersive autumnal atmosphere. Incorporate seasonal foliage, autumnal flowers, art pieces, and sculptures. These additions infuse your space with the essence of autumn and serve as conversation starters and visual delights. Combine them with candles for a stunning centrepiece that exudes warmth and charm.
These are just a few tips you can use to get yourself started, but ultimately, decorating your home is a deeply personal experience, so tailor these ideas to suit your unique style and preferences!
Taskers of Accrington provides an extensive selection of furnishings and accessories from renowned brands like Tetrad, Harrison Spinks, Cattelan Italia, and Calligaris. All of which will help you create the cosiest autumnal living room.
Still, If you'd like bit more help picking out pieces, our friendly team is always ready to assist if you have questions or need any interior guidance. Simply give us a call on 01254 236262 or pop into our expansive showroom on Penny House Lane, Accrington to see our stunning autumnal displays for yourself!