Here at Taskers of Accrington, you'll find a vast collection of sofas to suit every home style. Choose between bold fabric patterns, neutral leathers and everything in between. Our corner sofas, 4 seater sofasand 3 seater sofas are perfect for spacious living rooms, or we've got plenty of petite 2 seater sofas ideal for small homes and apartments. Many of our sofa ranges include matching armchairs and footstools or you can choose your own for a more eclectic look.
Of course, with such a wide range to choose from, the biggest question is: how do you choose the perfect sofa for your room? Here's our advice.
Think about functionality
It's easy to get caught up in the excitement of purchasing a luxurious designer sofa for your living-room, however if it doesn't quite fit your lounge, you'll have wasted a lot of valuable time! Sofas can serve a variety of different functions - do you want a space where you can curl up with your favourite book and a hot drink? Do you need a larger sofa to fit a whole family for movie night? Your lifestyle will have a big effect on the kind of sofa you purchase, so it's important to take those factors into account!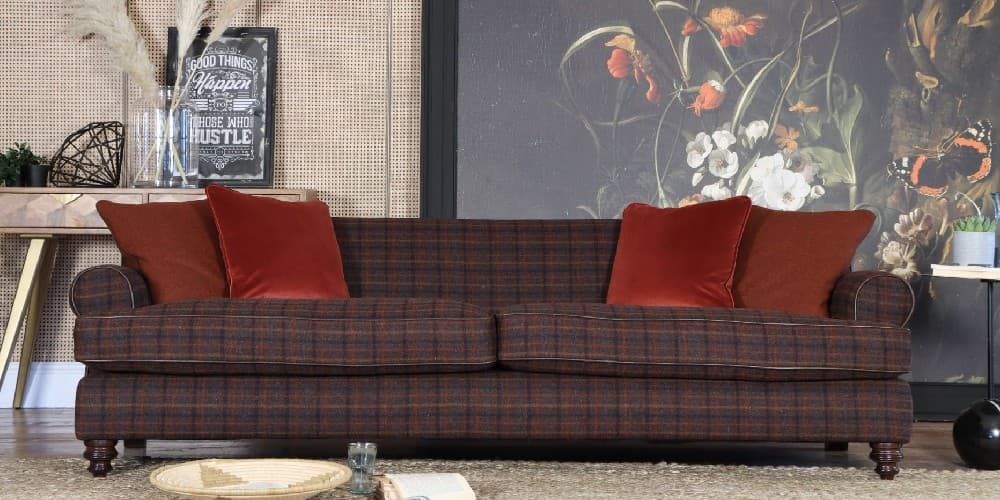 Pick a style that suits you
Are you someone that prefers a more traditional aesthetic, or are into more modern, contemporary styles? If you need a bit of help deciding which style suits you, then ask yourself these questions:
What colour sofa would you like?
How many people does it need to seat?
Where would you like to place it?
What will it be used for mostly?
If you can come up with an answer to each of those questions, then you'll be well on your way to picking out the perfect sofa for your living space!
Firm vs soft seats
Generally speaking, leather sofas are firm, whereas fabric sofas tend to lean more towards the softer side. The softness or firmness of your sofa can depend on a variety of different things - the depth of your sofa, the back cushions and the overall shape of your sofa. This is why we'd always advise visiting a showroom before committing to a sofa, as seeing and trying out sofas for yourself is the only real way of knowing which is best for you. Luckily for you, we've got an exquisite showroom right here at Taskers of Accrington where you can view a range of furniture from top brands like Tetrad, G Plan, Calligaris and Cattelan Italia.
Our newly refurbished showroom now includes themed displays, room sets showcasing lounge and dining furniture, an expanded bedroom furniture studio, and brand new lighting and home accessories departments. It's by far the most exciting showroom experience in the North West, so come and see for yourself!
If you have any questions regarding any of our recliner sofas, or anything else we stock at Taskers of Accrington, rest assured we're here to help. Get in touch today by calling us on 01254236262, or emailing us at Send Email. Our in-house team are always happy to help!