The traditional interior style has long been a favourite amongst homeowners all over the UK. And, as the name suggests, the traditional design style is long-established and celebrated for its effortless charm. So, whether you're looking to spruce up a cosy family home, a comfortable flat, or even an historic farm house, you've got no shortage of ways to incorporate touches of this iconic and timeless style into your living room. And with well over a century of history to our name here at Taskers of Accrington, we know a thing or two about traditional style. Here's a few of our best top tips!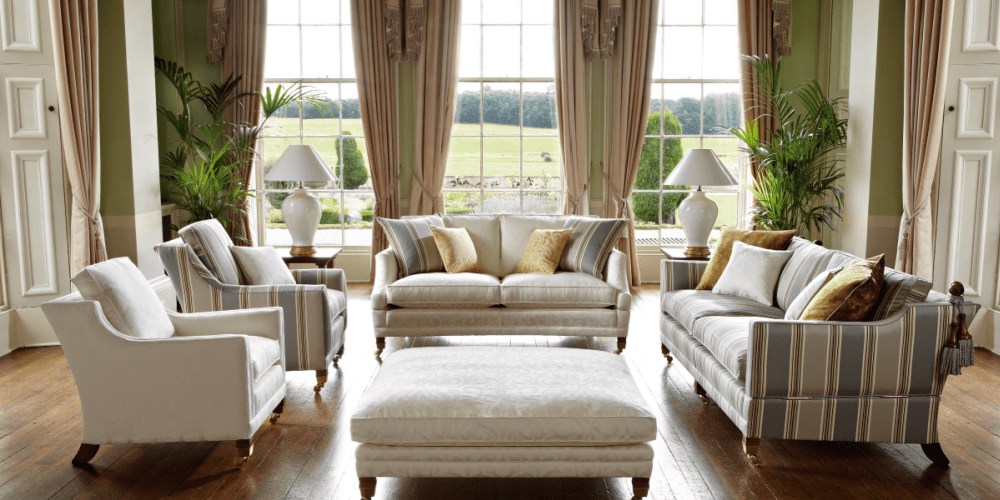 Show off your living room's best features
Many British homes boast beautiful period features like fireplaces or original wood floors, especially if they've been built more than a few decades ago.
So if you're fortunate enough to live in a beautifully traditional property already, and to have these elements at your disposal, don't hide them away! Accentuate them. There are few things more inviting and traditional than an open fire casting a cosy glow onto a wood floor, topped off with a beautiful Calvin Klein rug. If you haven't got these original pieces at your disposal though, you can find lots of affordable and equally attractive alternatives. For example, imitation fireplaces make a great substitute for the real thing. They help bring an inviting focal point to your space, not to mention extra cosiness.
What's more, here at Taskers of Accrington we have plenty of wood and laminate flooring options to choose from that would fit perfectly into the traditional aesthetic.
Incorporate traditionally-styled furniture
One of the most effortless ways to add a traditional touch to your living room is to use furniture. Dark hardwood furniture is most often associated with a traditional home, and when paired with a few carefully chosen ornaments (maybe even an antique if you come across a great deal) you'll achieve the traditional look almost effortlessly. It's worth noting that you don't always need to spend a fortune on adding these touches to your living room, you can pick up reasonably priced and stylish pieces like art and pottery at your local flea market or vintage shop. For seating, we'd recommend a Chesterfield sofa . The traditional design of these classic leather sofas will help tie the whole room together.
Choose antique-style accessories
Half the charm of a traditional style living room is the fact that it looks like it's been purposely curated over the decades. The allure of the traditional style lies in its timelessness – in short, you can be sure that it'll always look stylish, regardless of changing trends. And of course, no traditional living room would be complete without at least a few unique accessories. Consider furnishing such as grandfather clocks, busts and leather bound books, all of which are replete with a highly distinctive sense of character. In a similar vein, old photographs and oil paintings in gilt frames would fit right in in a traditional living room. You might also want to think about a few different yet complimentary pieces to give off the eclectic feel often associated with the traditional style.
Mix and match for a truly unique look
Don't be afraid to get creative! It's your space, so feel free to experiment however you want – particularly when it comes to soft furnishings, as these will likely be your finishing touches that tie everything together. A traditional style doesn't necessarily have to involve matching pieces, just complementary ones – that means they can be as diverse as you like!
When searching for items such as pillows, throws and curtains, look out for jacquard style patterns like Damask, or opt for classic floral patterns. For rugs, we suggest taking a look at our new range of Calving Klein rugs as these can bring considerable warmth and character to your living room. Not to mention adding that traditional touch!
When it comes right down to it, the tropes of a traditional living room are comfort, functionality and timeless elegance. You don't need to incorporate everything we discussed in this post into your living room - a few carefully selected pieces will help you to create a space that feels timeless, charming and interesting. And of course, if you're looking for traditional style furniture or accessories then you've come to the right place.
We supply expertly crafted furnishings from some of the most highly sought after brands in the world, including Tetrad, Harrison Beds, Cattelan Italia and Calligaris furniture. If you have any questions regarding anything you see online, or anything else we stock here at Taskers of Accrington, we're always happy to help. Get in touch by calling our shop on 01254 236262 and our in-house team will be happy to assist you.