For a truly luxurious look and feel, leather really is the best choice for your sofa. It's an exceptionally durable and easy-to-clean material, making it a very practical option for busy family homes, and it's been a longstanding favourite of homeowners from all over the UK for generations. What's more, leather sofas get softer with age and of course, they never go out of style.
Our selection of leather sofas includes statement looks from Alexander & James, retro designs from G Plan Vintage and timeless looks from Tetrad. Whatever the style of your interiors, we have a leather sofa to suit you. So, since we supply a wide range of truly luxurious leather sofas here at Taskers of Accrington, we thought it best to compile a brief guide to leather sofas, one that you can refer back to when choosing one for your home.
What is leather?
In its purest form, leather is a wholly natural material that's warm, durable, and incredibly stylish. It also features a variety of characteristics that make each leather item unique. The material often bears the marks of its natural origin, and these appear as scratches, areas of differing density, and changes in hair pore density to name a few.
Leather is made by tanning animal skins (usually cattle), and the material is then classified by grades. The grades have been the source of a lot of confusion for buyers over the years though, as they often believe that the more expensive, or higher-grade leathers are of a better quality, but that's not always the case! Different leathers have their own distinct features, and each have their own merits and drawbacks.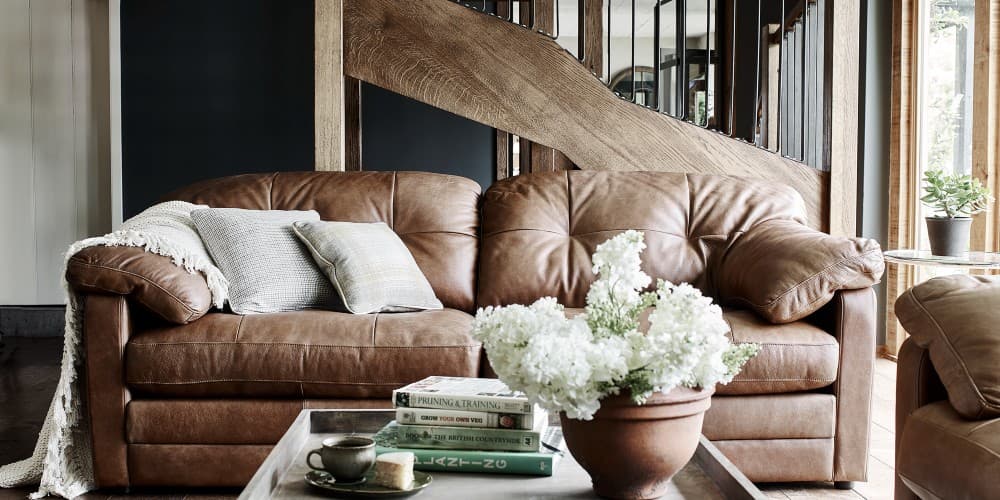 How durable are leather sofas?
Real leather sofas are credited with being some of the most durable furnishings you can buy. With the right care, a real leather sofa can last a lifetime. The main reason for this longevity can be put down to the material's impressive resistance to wear and tear. The material is more than tough enough to withstand the everyday uses that sofas endure, which makes them the perfect option for families, and those looking for to invest in a sofa for the long run. Plus, we also offer leather care kits as an optional extra whenever you purchase a leather sofa with us!
Are leather sofas comfortable?
High quality leather sofas are extremely comfortable. Leather furniture has been used for hundreds of years in a great variety of situations where comfort is at a premium, and here at Taskers of Accrington, all of the premium leather sofas in our showroom are crafted to exacting standards.
We offer perhaps the most exciting home furnishing shopping experience in the North West here at Taskers - our newly refurbished showroom includes themed displays and room sets showcasing lounge and dining furniture, an expanded bedroom furniture studio and brand new lighting and home accessories departments. If you have any questions regarding any of our luxurious products, feel free to get in touch by calling us on 01254236262, or emailing us at sales@taskers.com. Our in-house team are always happy to help!