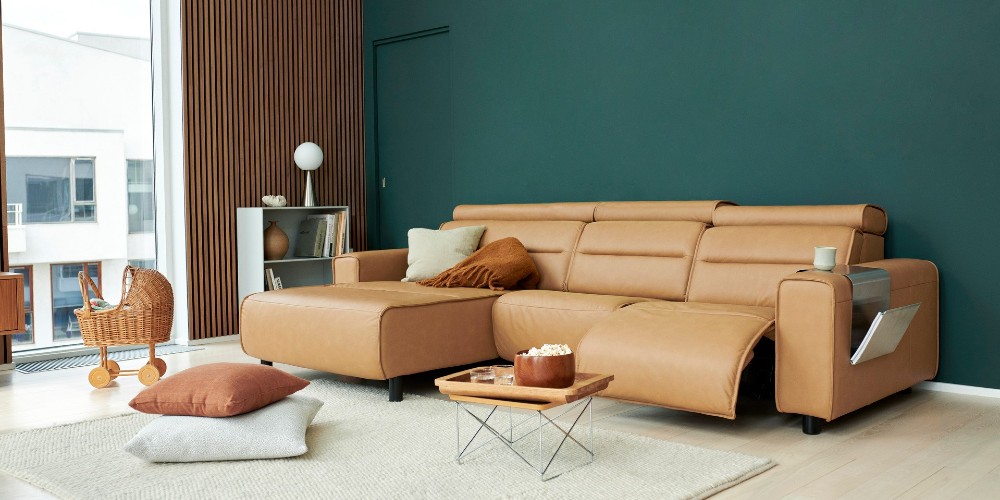 One of the reasons we love interior design at Taskers of Accrington is that it's constantly evolving. Trends shift, styles change, and the world of indoor spaces moves to make room for something new. Watching what will come next is always fun! But we've certainly had our favourites amongst the current styles that have made their way into our homes this year, encompassing everything from recliner chairs from Stressless by Ekornes to beds by Harrison Spinks. Join us as we take a peek at some of the top 2022 interior trends so far.
Lighting takes the limelight
Who doesn't love a trend that's both fashionable and functional? Interior lighting fuses practicality with chic design, allowing you to play not only with the style of the light itself but also with how it illuminates your space. In 2022, statement lighting has been the one to watch. Large, 70s-esque lampshades and spectacular sconces are all the rage with no signs of fading out anytime soon.
Brown is the new black
Neutral tones have been cooling down our colour palettes for some time now. In 2022, though, it's all been about brown. A delightful, calming tone that's been underestimated for many years, brown is now making a comeback in chic homes for a laid-back, retro feel.
Connecting with the outdoors
Wicker baskets, terracotta counters, and raw stone baths have been standouts in 2022 as we got back to our natural roots. As a species that evolved from living outdoors, it should come as no surprise we're craving nature in our homes! But the trend also derives from a continuing focus on sustainability, with homeowners moving towards renewable materials that have less of an impact on our planet.
Cottagecore cuteness
Pinterest is full of cottagecore, the dreamy, countryside-inspired trend that we've been loving. The style draws inspiration from the idyllic country, bringing beautiful wildflowers and organic textures into the home. Think of round wooden tables with small vases of dried flowers, white linen bed sheets embroidered with wildflowers, and homemade cakes on vintage cakestands.
Vintage accents
The vintage trend this year is subtle but gorgeous. Antique treasures are being seamlessly blended with modern homes to create a beautiful fusion of old and new. Old mushroom desk lamps are being added to modern home office desks, and large leather armchairs make the perfect addition to an open-plan living space. Search through antique shops to see what you can uncover and add a touch of nostalgia to your interiors.
If you've been inspired by these trends, feel free to pay us a visit at our expansive Accrington showroom, to explore our interior furnishings and add a new look to your home! With over 50 years of experience supplying customers with high-quality fine furnishings, we can always be relied on when you're looking to upgrade your interiors. If you've got any questions, be sure to give us a call on 01254 236262 and we'll be more than happy to help!
---
Stay up to date with the latest trends, sales, competitions and more by following our social media pages: