From Only
£959.00
RRP
£1,370.00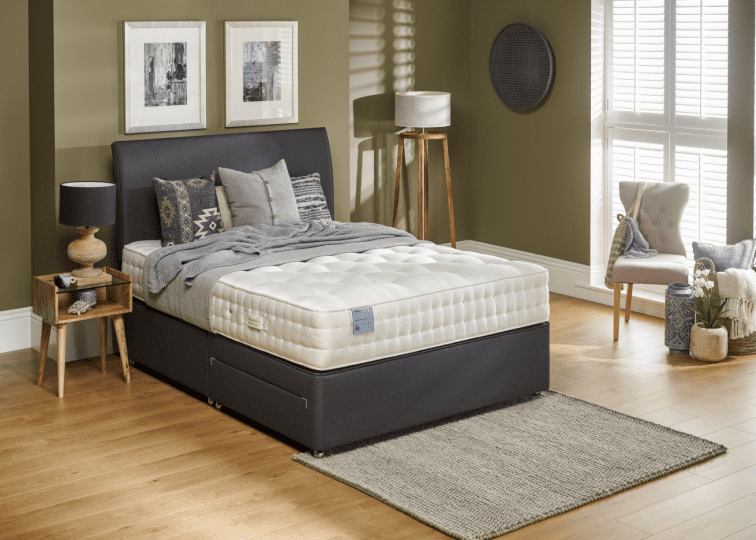 Shop Safely at taskers of Accrington
Product Information
Relyon Dreamworld Coniston Natural Wool 2200 Divan Bed
The Relyon Dreamworld Coniston Natural Wool 2200 Divan Bed is a sumptuous pocket sprung mattress on a firm edge pocket sprung divan base. The base is available with a free two drawer upgrade or a range of other storage options, including an ottoman base. 
The mattress features layers of luxurious natural fillings and is designed to offer a medium level of support. 
2200 Pocket Springs Pocket springs are able to move and respond independently of each other to provide individual support to each sleeper. This helps to reduce partner disturbance and prevent roll together. 
Wool Layer Wool is a natural insulator that keeps you warm in winter and cool in summer
Pashmina Wool Layer Adds extra softness and comfort 
Cashmere Layer Regarded as the softest natural hair, cashmere adds exquisite comfort 
Silk Layer Soft, strong and absorbent, silk improves the mattress's durability and helps to keep you cool and dry throughout the night 
Bamboo Layer is resistant to fungi, pests and bacteria 
Resilient Foam Core Provides further support 
The layers of fillings are secured in place using the traditional hand tufting method with 2 rows of hand side stitching which adds strength and support to the edges of the mattress. 
The Relyon Mattress sits on a firm edge pocket sprung divan base which is available with a free two drawer upgrade. There are a number of other drawer storage options available or there's the option of a padded platform top Ottoman storage base.
Dimensions
Height (cm): 71.0

Width (cm): 90.0

Depth (cm): 190.0

Technical Specification

Mattress depth: 29.5cm

Image is for illustration purposes only. Pillows, cushions, throws and bed dressings not included
Resilient foam core
Layers of natural fillings
Firm perimeter support
Headboard not included
Headboard not included
2 rows of side stitching
Traditionally hand tufted with wool tufts
2200 Pocket Springs
No turn mattress but regular rotation from head to toe will prolong the mattress's life
Belgian damask cover
Divan base height: 41.5cm
Side air vents to improve breathability
Flag stitched handles
Need to know
Shop Safely at taskers of Accrington
More reasons
To shop at taskers of Accrington