From Only
£1,179.00
RRP
£1,441.00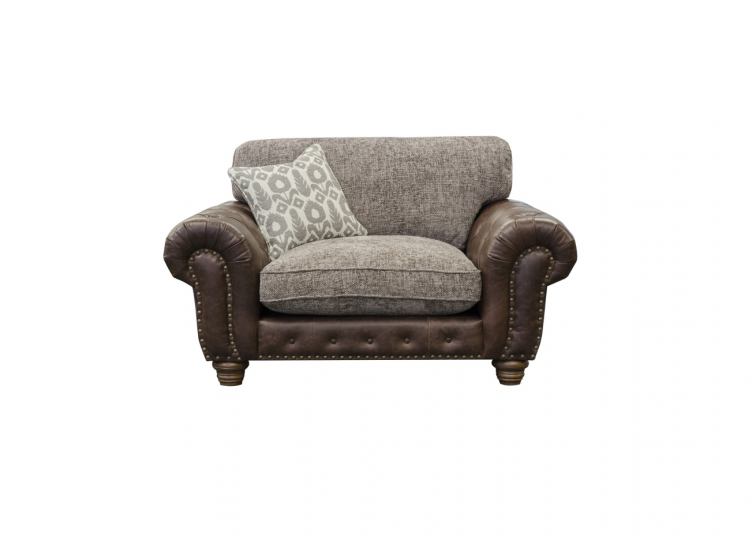 Shop Safely at taskers of Accrington
Product Information
Downloads

Alexander & James Wilson
Alexander & James Wilson Standard Back Snuggler Chair
Relaxed days and lounging nights require the perfect seat and the Alexander and James Wilson Snuggler is just that.
It's a cosy little chair handmade with you in mind. From the sumptuous feather, foam and fibre filled interiors to the romantic scrolled arms.
It's easy to custom make your Wilson snuggler chair:
1. Choose one of the Satchel Leather options available for the frame of the chair.
2. Go for either Antique or Pewter for the framed studded option.
3. Select neutral Alpine Stone or warm Alpine Sand for the seat cushion over.
4. Complete the look by choosing Dark Wood, Weathered Oak or Black hand-turned feet.
Shown In: Satchel Nutmeg leather, Alpine Stone Seat Cushion, Antique Studs and Weathered Oak feet
Dimensions
Height (cm): 91.0

Width (cm): 150.0

Depth (cm): 110.0

Technical Specification

Feather, foam and fibre seat cushions

10 Year Frame Guarantee
Wood sourced from sustainable forests
Sofas are handmade to order
Need to know
Shop Safely at taskers of Accrington
More reasons
To shop at taskers of Accrington