From Only
£1,649.00
RRP
£2,022.00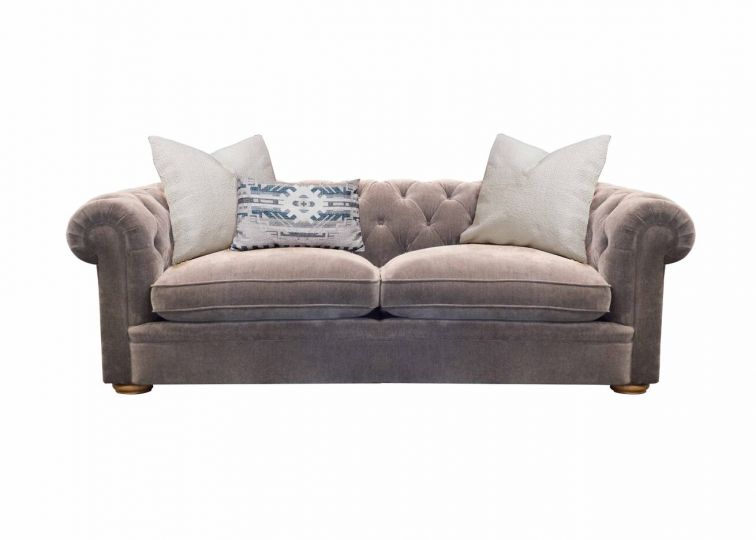 Shop Safely at taskers of Accrington
Product Information
Downloads

Alexander & James Retreat
Alexander & James The Retreat Midi Split Sofa
The Alexander & James The Retreat Midi Split sofa is the smallest of The Retreat sofa range but there's still room for three people to sit comfortably. The Midi Split sofa combines 2 feather, foam and fibre seat cushions with perfectly padded arms and 2 feather filled scatter cushions and 1 bolster to provide the ultimate in comfort and relaxation.
The split style of the Alexander & James Midi Split sofa means that it can be delivered to flats and smaller homes with ease. It is also available as a fixed sofa.
Here is a step-by-step guide on how to order:
1. First of all, select your fabric body colour, this will determine the colour of the main body of the sofa.
2. Choose from any of the plain fabrics listed for your large scatter cushion(s).
3. Choose from a range of plain or pattern fabric colours for your bolster cushion.
4. Complete the look by choosing either Weathered Oak or Dark Wood for the petite feet.
5. Success! Click add to basket and continue shopping on Taskers.com.
Shown In: Plush Asphalt with Jin Siberian leather accent, Orillo Kilim Bolster Cushion and Weathered Oak feet
Dimensions
Height (cm): 73.0

Width (cm): 220.0

Depth (cm): 122.0

Technical Specification

Feather, foam and fibre filled seat cushions

10 Year Frame Guarantee
Wood sourced from sustainable forests
Available in a huge range of fabrics and leathers
Scatter cushions included
Need to know
You May Also Like
From Only

£2,899.00

RRP

£3,539.00

MATERIAL: Fabric

FILLING: Feather, Foam and Fibre

SCATTERS: Included

FEET: Weathered, Dark

COLOUR: 60+ Available

From Only

£3,579.00

RRP

£4,384.00

MATERIAL: Fabric

FILLING: Feather, Foam and Fibre

SCATTERS: Included

FEET: Weathered, Dark

COLOUR: 60+ Available

From Only

£4,449.00

RRP

£5,445.00

MATERIAL: Leather

FILLING: Feather, Foam and Fibre

SCATTERS: Included

FEET: Weathered, Dark

COLOUR: 25+ Available

From Only

£5,229.00

RRP

£6,409.00

MATERIAL: Leather

FILLING: Feather, Foam and Fibre

SCATTERS: Included

FEET: Weathered, Dark

COLOUR: 25+ Available

From Only

£2,529.00

RRP

£3,107.00

MATERIAL: Leather

FILLING: Feather, Foam and Fibre

SCATTERS: Included

FEET: Weathered, Dark

COLOUR: 25+ Available

From Only

£3,749.00

RRP

£4,590.00

MATERIAL: Leather

FILLING: Feather, Foam and Fibre

SCATTERS: Included

FEET: Weathered, Dark

COLOUR: 25+ Available

From Only

£2,229.00

RRP

£2,721.00

MATERIAL: Leather

FILLING: Feather, Foam and Fibre

SCATTERS: Included

FEET: Weathered, Dark

COLOUR: 25+ Available

From Only

£2,349.00

RRP

£2,883.00

MATERIAL: Leather

FILLING: Feather, Foam and Fibre

SCATTERS: Included

FEET: Weathered, Dark

COLOUR: 25+ Available

From Only

£1,579.00

RRP

£1,922.00

MATERIAL: Leather

FILLING: Feather, Foam and Fibre

SCATTERS: Included

FEET: Weathered, Dark

COLOUR: 25+ Available