From Only
£1,749.00
RRP
£2,189.00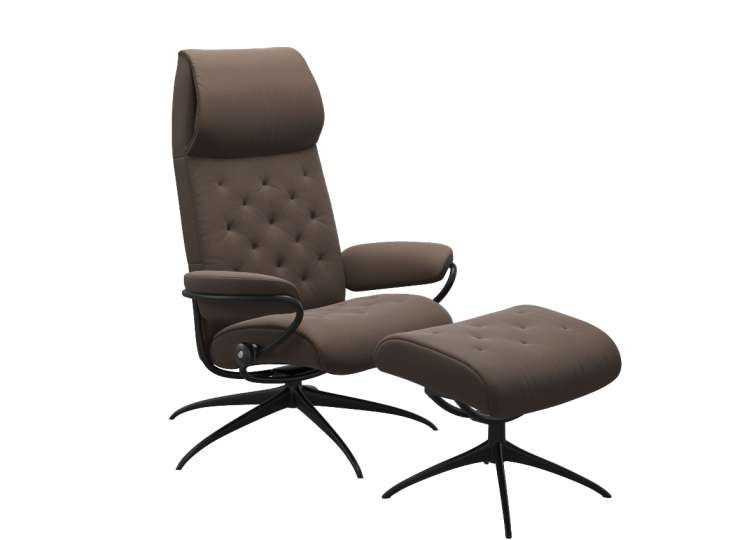 Shop Safely at taskers of Accrington
Product Information
Downloads

Stressless Recliners
Stressless Metro Star Chair with Footstool
A sharp and effortlessly modern design, the Stressless Metro Highback Recliner Chair and Stool is the peak of style. It has a sharp contours, a lengthy back and an exposed chrome frame detail which gives it a stylistic edge. It's not just a chair that looks great, the Metro also has the unique Stressless features to give it looks as well as functionality.
Swivel the modern star shaped base also has full swivel and rotating functions.
Stressless® Plus™ successfully keeps your eye line consistent as you recline, making it very easy to read or watch TV without straining to see.
Stressless® glide system secures your body into position when you recline, meaning the chair won't force you upright and won't work against you as you move into position.
BalanceAdapt™ - A soft rocking motion based on an aluminium frame, the seat angle automatically adjusts to your body and works with the chair in harmony.
Footstool perfectly proportioned to the chair, the complimenting footstool is made to suit all leg lengths and
Sleep function the adjustable pillow can change into a Sleep Mode, and gives you comfortable support for those afternoon naps.
Shown In:Paloma Espresso Leather with Black Base
Dimensions
Height (cm): 111.0

Width (cm): 80.0

Depth (cm): 74.0

Technical Specification

Footstool: h:42.0cm d:41.0cm w:54.0cm

Choice of two seat heights
Star Shaped Base
Seat Height: 46.0cm
Aluminium Frame
Wide variety of leather and fabric colours available
10 Year Guarantee on fabrication faults on internal mechanism
Need to know
Shop Safely at taskers of Accrington
More reasons
To shop at taskers of Accrington